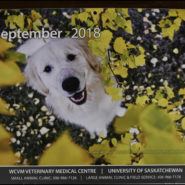 WCVM 2018 Calendar – Mr. September
I have been fortunate to have a good relationship with the Western College of Veterinary Medicine and have had several photos over the years in cards, calendars and fund raising brochures.
This year Bruno makes an appearance in the 2018 calendar as "Mr. September".  Somehow nearly every other photo in the calendar has something to do with the vet college or it's facilities.  Bruno on the other hand seems to just be in there because he is so darn handsome.  Ever since I received an advance copy of the calendar we've been calling him Mr. September, and he now responds to the name.