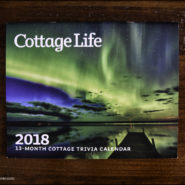 Cottage Life Calendar – Northern Lights at Emma Lake
In 2016 I entered a few photographs in the Cottage Life photography contest and unfortunately none were selected as winners.  Then this summer I received an email asking if they could use my photo of the norther lights in the 2018 calendar, which I of course quickly agreed to.  When they send out a few complimentary copies to me I was shocked to see the photo on the cover.   A great surprise to finish off the year with, especially since I did not get a chance to connect with the northern lights at all in 2017.
Below is the cover, September, and the original photo.