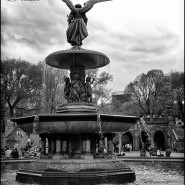 new print – "lending a wing"
I've just printed up a new print for sale and am excited about how it looks.  It's one form Central Park during a a 2014 trip to New York City.  The photo shows the angel of the fountain lending a wing to support a couple of small birds.  When I took the photo I was simply impressed by the lines of the fountain, the clouds in the sky, and the little appropriate detail of the birds perched on the angel's wings.  When I converted it to black and white, it quickly became one of my favourite shots from the trip.
Since taking this photo I have learned a little more about the angel statue.  It is the Bethesda fountain, containing an angel to represent the biblical angel who purified waters at the pools of Bethesda to help heal the sick.  The New York statue was commissioned to celebrate a new clean water system for the city, which helped prevent future outbreaks of cholera.