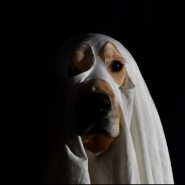 bruno's project – october
We've been having a beautiful fall out here on the prairies, and the October portion of Bruno's project is partly reflective of that.  Oh yeah, and a ghost showed up too.
Week 40 'out of the reeds' was a very different photo for me, experimenting with double exposure photography.  Two shots used here – a profile of Bruno backlit against the window (with the background overexposed so much that it was white) and a photo of bull rushes flipped upside down. The photos were combined in Photoshop.   I like the effect that this has with him looking like a creature arising from the bull rushes.  Truth be told, he's rather be crashing through them on the way into the pond than double exposed with them in a photograph.
———-
Week 41 'autumn sunrise' was a bit of a surprise shot.  I was a bit limited with time, but managed to get Bruno out for one sunrise walk and photo session.  The sunrise did not work as well as I had wanted where initially planned (i.e. shade), so we quickly walked back to the pond which I could see was out of the shade.  It also happened to have some ground mist that worked well backlit like this.  And Bruno held his 'stay' in a public park for me to get this shot.  Love how the light plays off the mist.  Also made for a dogversation:
Dave: Bruno, you're doing a great job sitting for the portrait.
Bruno: Thanks. I am great.
Dave: Yup. Looking good. And the morning sunrise light is awesome too.
Bruno: Yup. I am awesome.
Dave: Good job with the stay. Doing so well in the public park.
Bruno: Do you realize that there's a pond just to my right beyond those bullrushes?
Dave: Yes. I noticed that when we came here. I think the pond might have something to do with the low level fog that sun is burning through for this shot.
Bruno: And do you realize just how much I like water?
Dave: Yes, I'm very aware of that. And I've been giving you treats for staying so nicely here.
Bruno: Really do appreciate the treats, but there are four things that I need to tell you before something is about to happen.
Dave: Sure. What are they?
Bruno: I love water, and I have impulse control issues.
Dave: But it's not really a good time to go swimming. After this photo we need to go home so I can get to work.
Bruno: Oh, that's not good.
Dave: What are the two other things?
Bruno: I'm getting twitchy, and I'm a whole lot faster than you.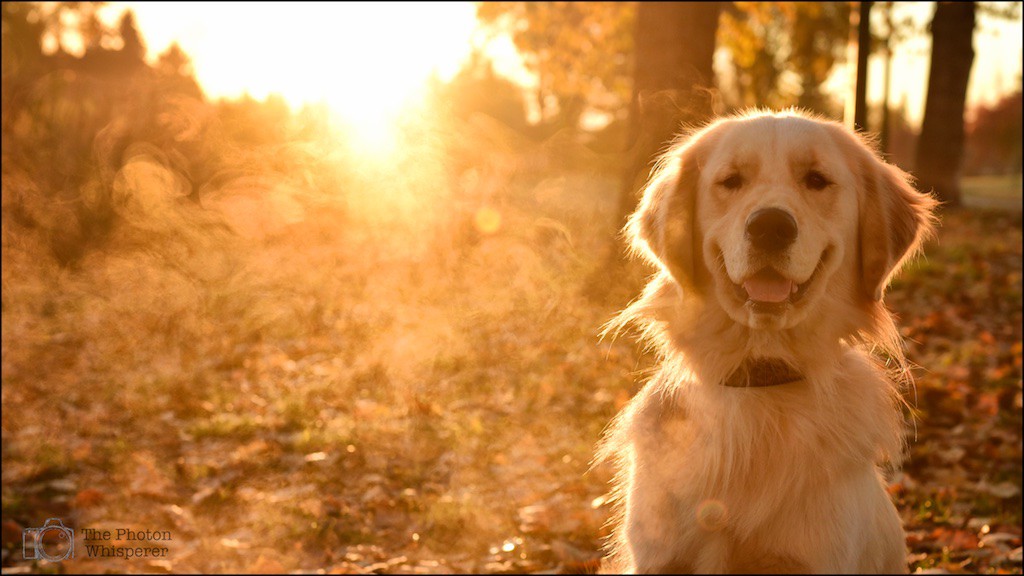 ———-
Week 42 'the lounger' documented Bruno's new found freedom in the house as he has been given more unsupervised access to the living room.  Turns out that he quite likes the chaise lounge chair that Eva thought was all hers.
Dave: Hey Bruno, you're looking mighty comfy there.
Bruno: Yup. In full lounge mode.
Dave: Lounge mode?
Bruno: Yup. Heard you guys calling this a 'chaise lounge', so I thought I would lounge.
Dave: And you seem to have nailed it.
Bruno: Yup. Only one question for you.
Dave: What's that?
Bruno: How do I chaise?
Dave: I have no idea.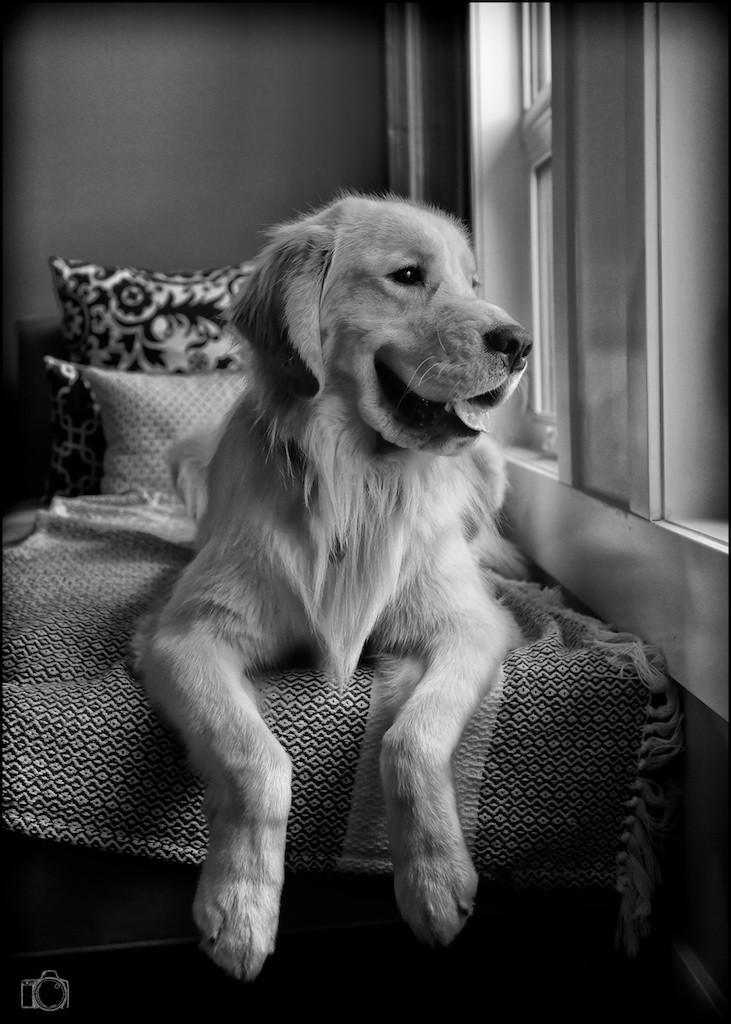 ———-
Week 43 'super awesome' was a quick last minute shot.  Playing in the back yard, low angle to focus on his smile.  Love how happy this guy is.
Dave: Hi Bruno. How's it going today?
Bruno: Super awesome.
Dave: Glad to hear it.
Bruno: Me too. Love it when things are super awesome.
Dave: Me too dude. Me too.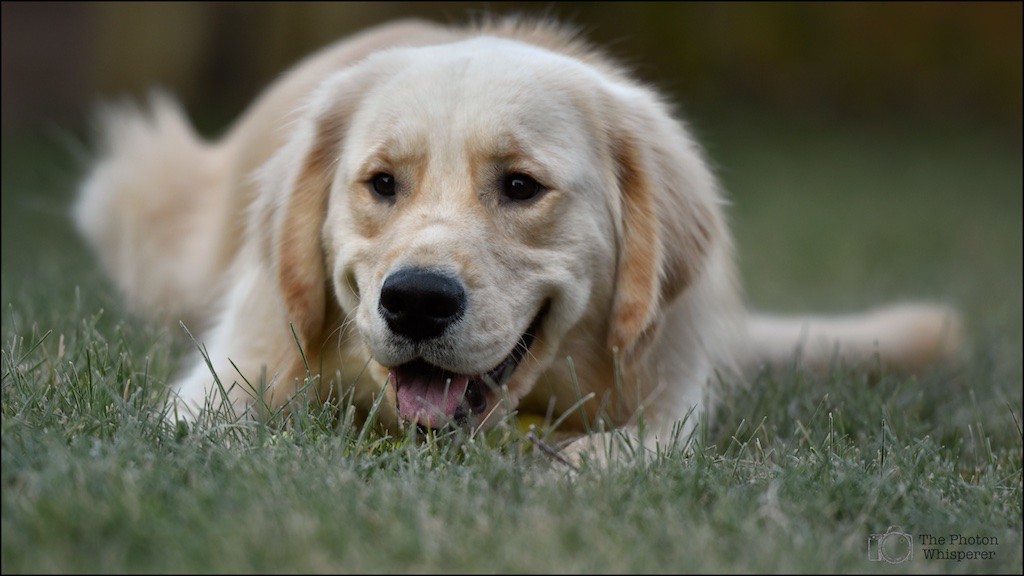 ———-
Week 44 'i ain't afraid of no ghosts' was his Halloween photo.  Rocking the classic ghost look, with some strong side lighting courtesy of off camera flash and a black cloth background.  He may not be smiling here, but I think his gentle patient side shines through.
Bruno: Boo!
Dave: Oh hi Bruno. I see you're into the Halloween spirit.
Bruno: Boo!
Dave: Super costume dude. Totally rocking the classic ghost look.
Bruno: Man, I thought when I dressed up as a ghost people would give me food.
Dave: Usually people say "trick or treat" instead of "boo".
Bruno: Trick or treat!
Dave: That's better.
Bruno: Are you getting that Shreddie into my mouth, or do I need to perform a trick on you?
Dave: I'm starting to think that I ain't afraid of no ghosts.
Bruno: Can I tell you what makes me feel good?
Dave: Bustin?
Bruno: No man. Shreddies make me feel good. I'm pretty sure those are Ray Parker Jr's original lyrics to the Ghostbusters song.
Dave: Not so sure about that, but we'll hook you up.