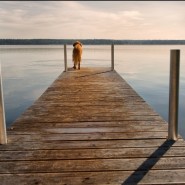 the end of the dock – two ways to get there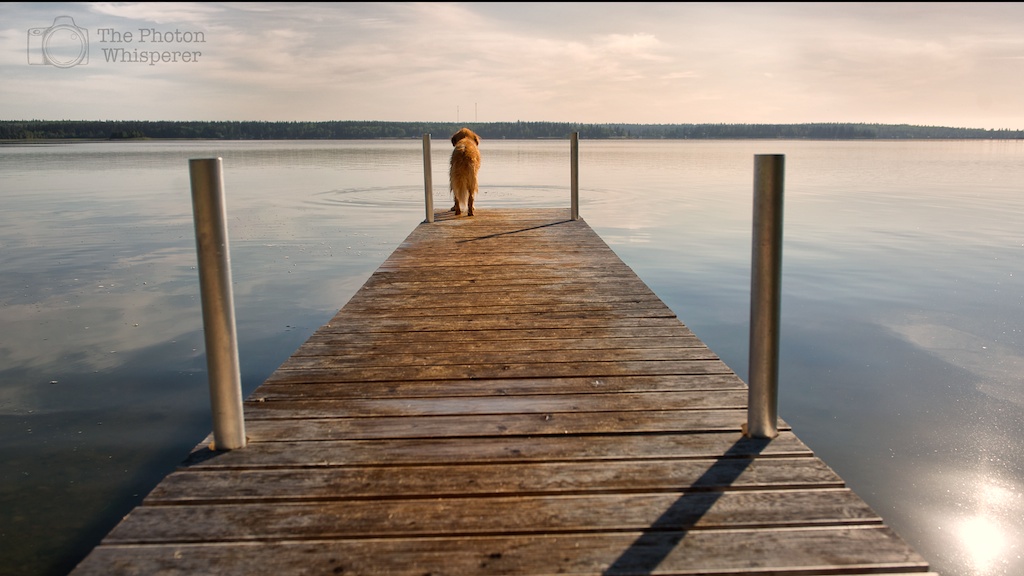 This is a picture from August 2013, more than eight months ago.  It was an idyllic morning at the cabin, not a wave in sight and over 25 degrees Celsius at 7am.  So I took Kael for an early morning swim and photo session, leaving Eva to watch and mildly complain from the deck.  Even though this is a little of an insult to Eva, the old girl Kael needed some alone swimming time.
That morning was ideal, and I captured some of my favourite lake pictures of my old girl.  I took this picture looking for something a bit different from my usual dock jumping shots, playing on the long lines of the dock.  However, I did not come back to do the processing on it until yesterday, over four months since Kael passed away.  My first few tweaks included a crop, local exposure and sharpening, then warming up the tones a bit to match how I remembered the light that morning.  
But as it turns out, I must be missing my old girl and feeling a little melancholy as the above picture didn't match how I was feeling during the processing.  So a trip onto monochrome matched my processing  mood much better.  It seems to have a sense of mystery and sadness, but I like it just the same.  Surprising how different the two versions are.