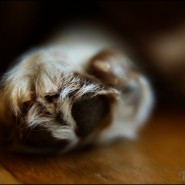 Eva's project – March
It's hard to believe that we're more than 1/4 of the way through 2014.  Eva's project continues, and she is turning into quite the little model.  Looking forward to some more spring-like weather to get fun outdoor pictures in April.  The 'week' number links back to the original post on Flickr.
Week 10 took us out to the backyard to play with my new toy, a GoPro camera.  30 frames in 2 second burst helped capture this frame-filling action shot of her in the back yard with a new toy.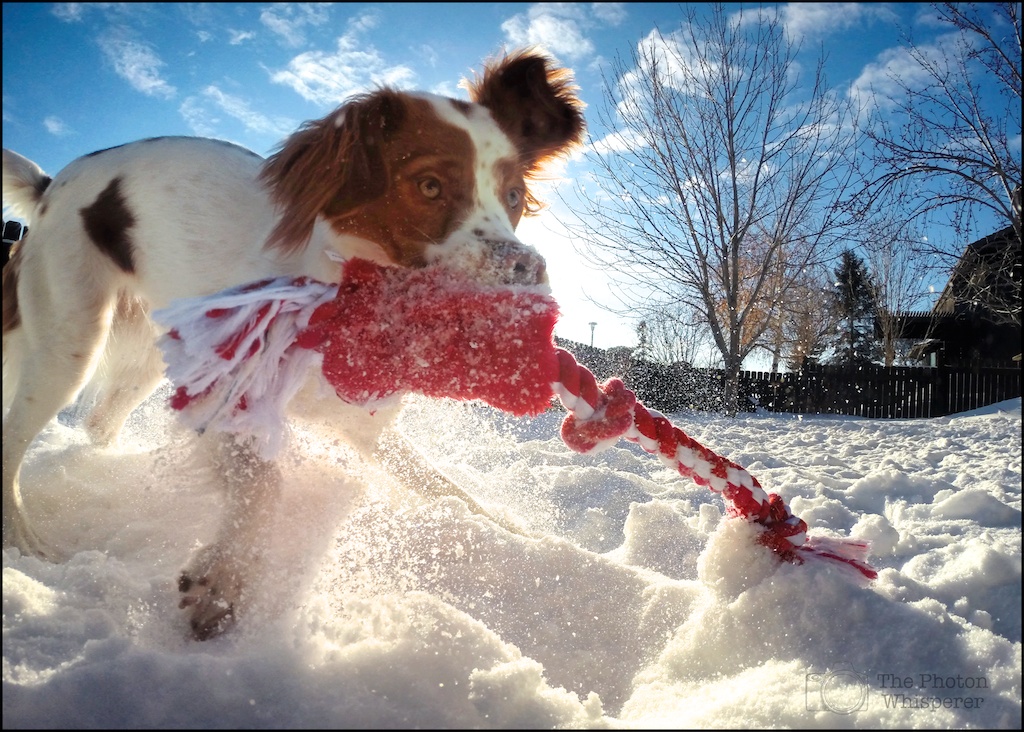 Week 11 has already appeared on this web site, celebrating my photos on display at Starbucks.  Eva definitely enjoyed the chicken bacon macchiato.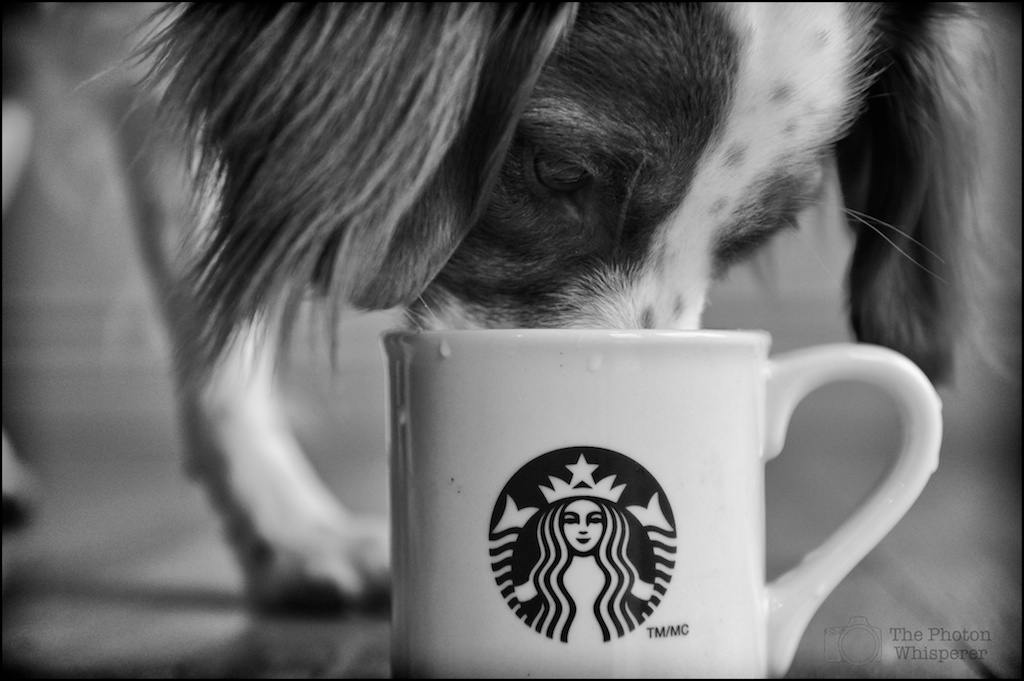 Week 13 was a quick shot, a macro of her paw.  We're used to having golden retrievers, so I'm often amazed at how tiny her paws are.  I think this shot shows some of it's details.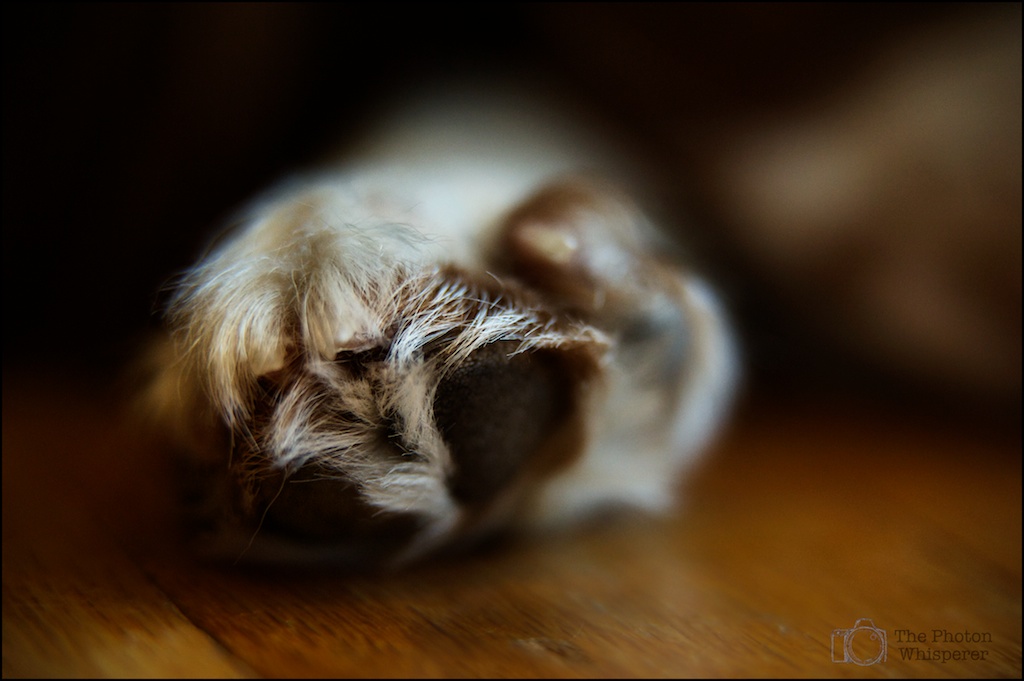 Week 14 was also an assignment shot for the Studio 26 group.   The assignment was flash photography, which is quite a different thing for me to explore.  Set up a make-shift studio in the basement (hung small 3 foot wide section black cloth, put flash off camera and under a chair, dimmed room lights, and shot in manual mode).  This turned out to be the best expression I could get from Eva, even though I'm a little unhappy with the noise on the right side of her face.   Tried several times after correcting my underexposure, but just couldn't get that expression back.  Part of the post on this shot was a bit of creative writing of the perceived conversation Eva and I had regarding this photo session.  I've copied the text from that below.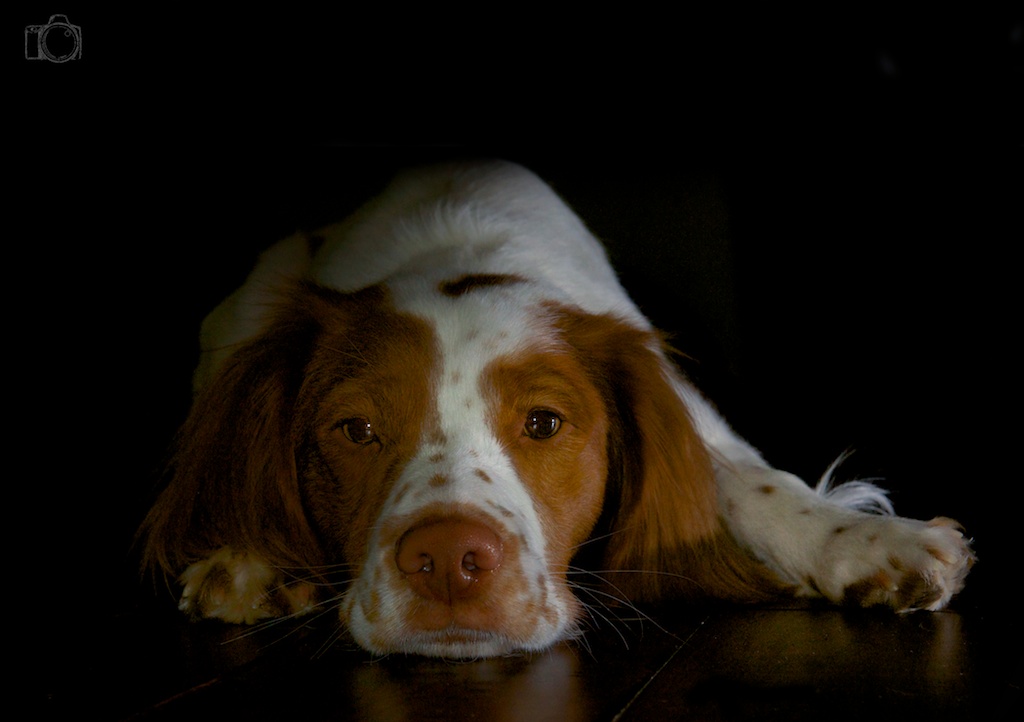 Eva: So, what's the idea with the black thingy that makes a strange noise then burps light everywhere?
Dave: It's a flash for the camera.
Eva: Huh? You've done hundreds of pictures of me in my modelling career, but never with that stupid light burping thing.
Dave: It's for the Studio 26 assignment, and I thought it would let us try something different.
Eva: I'm not sure I like it. I'm gonna go read my modelling contract and see what it says about stupid noisy things.
Dave: Don't worry, it comes with treats.
Eva: Contract – schmontract. Lets see what this light burpy thing can do!
Dave: OK, we're gonna go to the basement, hang a black piece of cloth, futz for ten minutes remembering how the off camera function works, put the light under a kids chair with a big mat blocking the light from hitting the background, and do some photos.
Eva: Good luck with that. Do I get cookies yet?
Dave: When we're all set up. Do you have to follow me around while I'm setting up, it could take a while.
Eva: Dude – I always follow you everywhere, even the bathroom. And there's not the option of free cookies in the bathroom so good luck getting me to give you a little breathing space right now.
—— insert ten minutes of futzing while negotiating a treat distribution frequency of satisfaction to both parties —–
Dave: OK, I think I've got it. You should lie here now.
Eva: Um, I don't think so, that's a little too far from the treats.
Dave: Please, it's the only space where the flash will light you up properly
Eva: How about this, I'll lie down for about five seconds while you futz with manual focus, then jump on your head and ask for a cookie?
Dave: Seriously, 5 seconds? Can we go for me sliding you a cookie every 15-30 seconds if you promise to stay still?
Eva: Do I get to look bored?
Dave: Sure – Can you get off my head now?