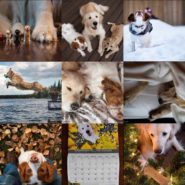 On Instagram – theDogWearsPantlers
In Rome I was convinced that I needed to be on Instagram. I did resist adding a media presence/commitment, but decided to join and now regularly post photos there.  Since not all photos make it on this web site the Instagram feed provides a more updated stream of dog and other photos.
My handle is @theDogWearsPantlers.  For those wondering what pantlers may be, they are pajama pants worn upon one's head to look both like pants and antlers.  And yes, Bruno does look good in pantlers.
Top 9 Posts
Thanks to the power of the internet here are the selected top 9 posts from my Instagram account in 2016 and 2017.