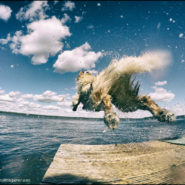 Bruno's Project – August 2017
Bruno (and frankly all of us in our family) continued to live the good life in August.  Lots more time at the lake, and even a solar eclipse to boot.
Week 31 "the golden seal" was just Bruno living the life he loves and swimming with his toy at the cabin.  Close-up perspective via GoPro camera.
Dave: Bru, you having a good time in the water?
Bruno: Yup. Best time. Loving the lake. Do I look as awesome as I feel?
Dave: You look a lot like a seal.
Bruno: Seriously? Seal? The singer? Should I start singing "Kissed by a Rose?"
Dave: Nope not that kind of seal.
Bruno: California Golden Seal?
Dave: Nope, not the unsuccessful NHL team from the 1970's.
Bruno: Like a rubber seal, more commonly known as an O-ring?
Dave: Bruno, that was the next seal you thought of?
Bruno: Well, when I'm jumping a lot of people yell "Ooooooo" so I thought an O ring was just a particularly awe inspiring type of rubber seal.
Dave: Nope, not where I was going.
Bruno: Then I'm kind of lost.
Dave: You know, seals? Marine mammals?
Bruno: Really, of all the marine mammals out there wanted to go with a seal? The earless variety of pinnepeds?
Dave: Well, you have whiskers, look cute, swim well, and currently have your ears tucked behind your head.
Bruno: All valid points. But seriously, next time you think of marine mammals, go with polar bear. Those guys rock and I really think I could imitate one in the zoo. Fresh fish and a good place to swim in cold water, sounds like a deal to me.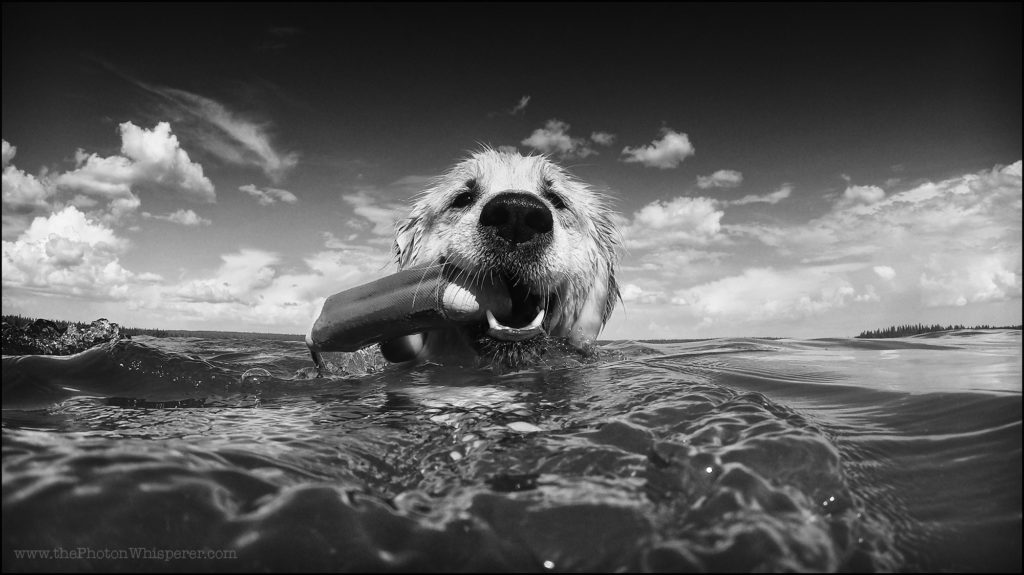 ———-
Bruno really did love this week 32's photo "the ice man".  We rarely give him access to ice because it's not good for those teeth, but in the hot weather today we made an exception. There also happened to be a couple of tiny pieces of bacon in the bowl to keep it interesting.  I must admit that the bacon was my wife's idea. She also decided the she deserves a raise in her photo assistant salary for all of the things she helps with. I would offer to double the salary, but that's not very effective when the base rate is free.
I've had this idea in the back of my mind for a while now, but decided to pull the trigger on it to play with Itten's contrast of "solid and liquid". This photo was done with GoPro camera in it's waterproof case in the bottom of a giant glass measuring bowl filled with ice and water. Triggered via iphone app and wifi.
Dave: Hey Bru, are you enjoying some ice water on this hot day?
Bruno: Yum yum yum. I love ice.
Dave: I can see that. Isn't it a bit cold to dump your snout in the ice cold water like that?
Bruno: Nope. That's why they call me the ice man. Yum yum yum. I love ice.
Dave: I thought that was because you sometimes move at the speed of a glacier.
Bruno: Nope. Yum yum yum. I love ice.
Dave: But don't you ever get a brain freeze when you're eating ice?
Bruno: No idea what that is. Yum yum yum. I love ice.
Dave: You know, when you eat something really cold that you get a headache and you can't think straight until the headache goes away.
Bruno: Well, can't say that I've ever had the headache.
But the not thinking straight…. Now I forgot what I was going to say.
Dave: Something about not being able to think straight?
Bruno: Nope. That can't possibly be it, Now I remember …. Yum yum yum. I love ice.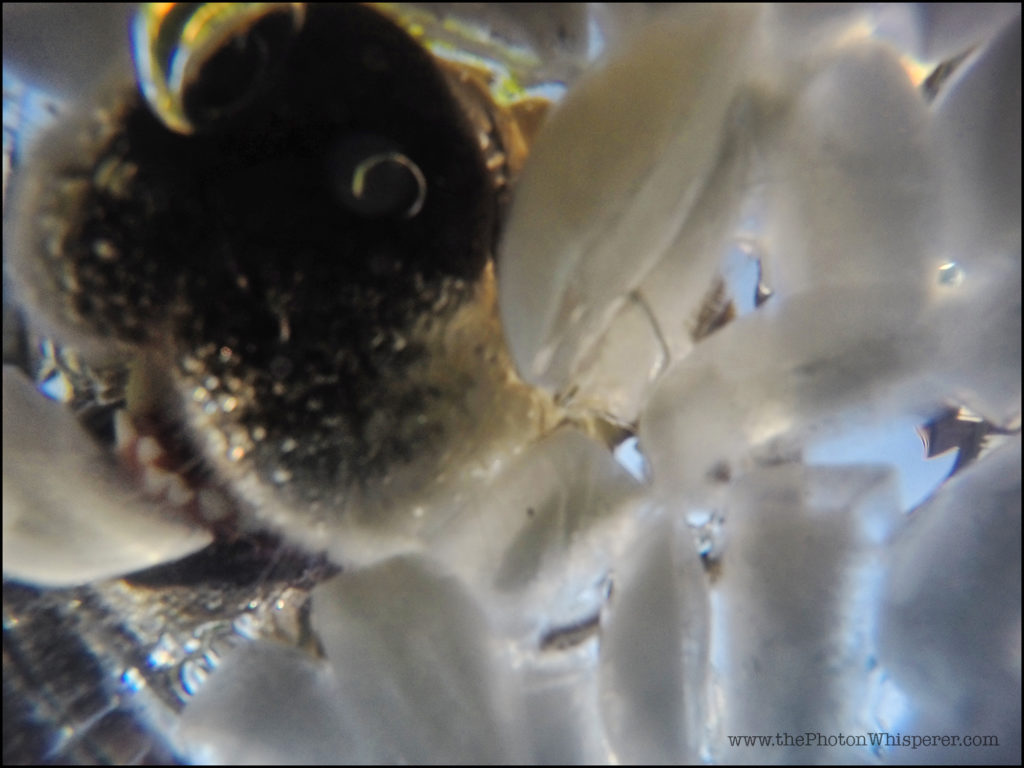 ———-
Week 33's photo "making clouds" was also via GoPro.   I'm a big fan of how his spray looks like tiny little clouds in this photo. And it's hard to imagine why there are water droplets on the right side of the GoPro lens in this photo.
Dave: Bruno, do you think you ever want to do anything other than jump off the dock after your toy.
Bruno: Yes. In fact, I'm multitasking right now.
Dave: Really? I never realized that.
Bruno: Yup. Totally multitasking. Right now I'm jumping, entertaining, photographic modelling and making clouds.
Dave: Okay, the first three I can easily see, but making clouds? How do you figure that?
Bruno: Well, the way I understand it clouds are really just water droplets suspended high in the atmosphere.
Dave: I'm with you so far…
Bruno: And when I'm down at the lake shaking, running and jumping I spray water molecules all over the atmosphere.
Dave: But do the droplets make it high enough into the atmosphere to truly become clouds?
Bruno: Hey, when was the last time that you made clouds? If you don't stop downplaying my achievements I'll have to give you a lecture on evaporation and how it it is facilitated by increasing both surface area and kinetic energy.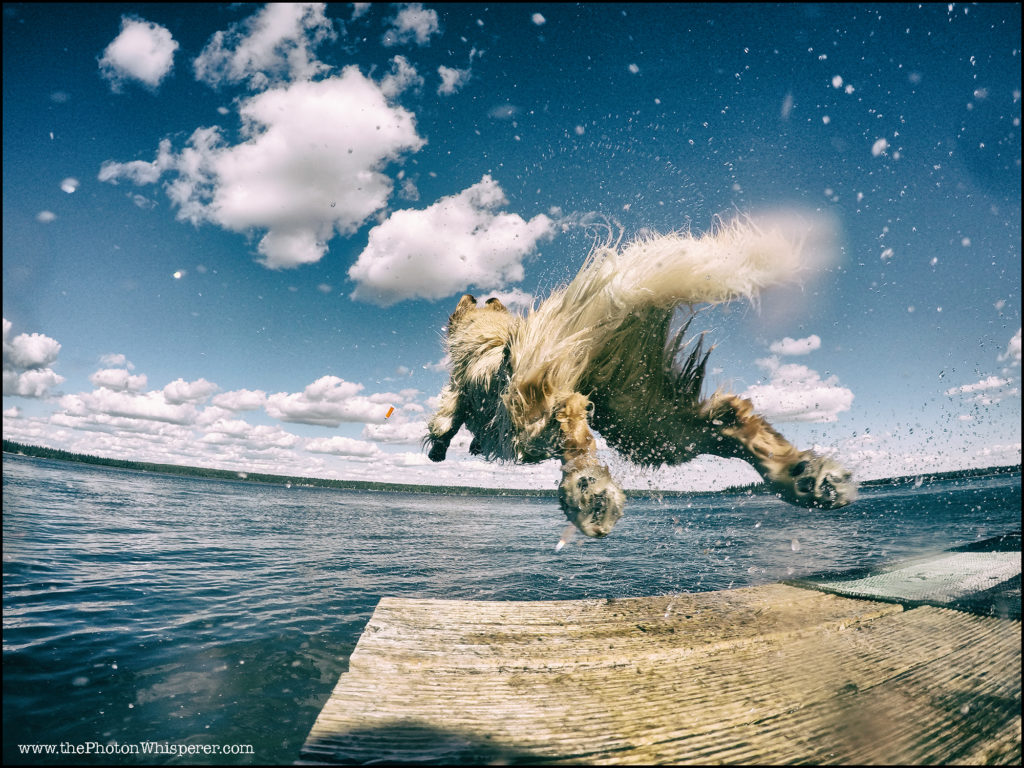 ———-
On week 34 we were fortunate enough to be at the lake for the solar eclipse.  It was only a partial exlipse in Saskatchewan, but still an awe inspiring event.  For everyone except the dogs that is.  Bruno just wanted to swim and snuck down to the dock to do just that.  A bit of a cluttered photo with the tent, eclipse viewing set-up and the other pups up on the deck.
Dave: Hey Bruno, what do you think of the eclipse?
Bruno: Not much.
Dave: Really? I think it's pretty cool and it is rare that we get a chance to witness something like this.
Bruno: Nope. Don't think much of it. I'd rather be swimming.
Dave: Fair enough. I guess the millions of people watching the moon temporarily shadow portions of the earth from the sun are all wrong.
Bruno: Really? Millions of people watching? And they're not just there for the eclipse cookies?
Dave: Yup. Not just for the eclipse cookies. I think Eva made those up.
Bruno: Well, if you say it's such a big thing when something shadows the earth from the sun, I have some jumping to do and you can marvel at the eclipse shadow that I create.
Dave: I think the shadow has to be caused by a larger body a significant distance from the earth to be considered an eclipse.
Bruno: Well then, lets go to the store and buy me 60 tubs of ice cream and a trampoline. This golden eclipse is going to be epic!