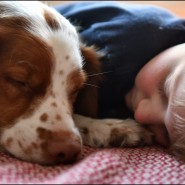 Eva's project – fourth quarter
The final months in Eva's monthly photo project have finished, and this quarter of the year.  A seemingly random collection of photos and events.
This October photo "occupy" showed Eva taking over the fort that my son got to make with his mattress and spend the night in on one October weekend.  A dogversation to go with as well.
Dave: Hi Eva, I see you like Daniel's sleeping fort that he made in the family room.
Eva: It is pretty comfy, but I have no idea why you are calling it Daniel's fort.
Dave: It's his mattress, and he put it together with the kitchen chairs, a play tent and a sheet.
Eva: I must admit, he did a mighty fine job building it. Solid construction. Really comfortable.
Dave: Yet you were unsure why I was calling it Daniel's fort?
Eva: Yup. Makes no sense to me. Reeks of social inequality. So I decided that I should occupy it.
Dave: Really? Occupy like the 'occupy Wall Street' movement from a few years back?
Eva: Darn tooting. I'm all against social inequality, so I'm making my protest here with a nice long nap.
Dave: And if Daniel wants to spend time in his own fort, what will happen then?
Eva: There's more than enough room for him to share with me. It's the big puppy Bruno that I have to look out for.
Dave: Isn't that a little hypocritical to deny Bruno access to the same real estate that you are occupying to protest social inequality?
Eva: I'm not as concerned about social inequality when I'm the one with the advantage.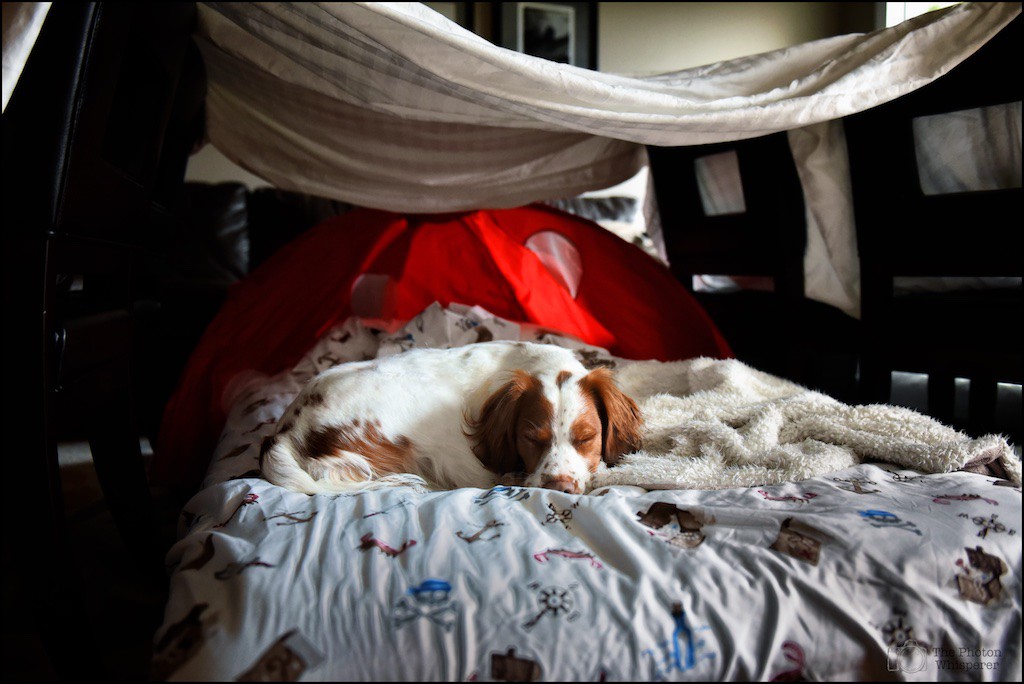 ———-
The second October photo "you know you want it" shows her taunting her big little brother with one of his favourite toys – the orange hockey ball.  A short little dialogue to go with it.
Dave: Hey Eva, what's with the hockey ball?
Eva: You know, just playing with it.
Dave: But I thought you weren't as interested in balls as your brother Bruno is.
Eva: I'm not that interested in hockey balls.
Dave: Then why are you playing with it?
Eva: When I said "it" I was more referring to Bruno than the ball. Nothing gets him riled up like when I play keep away with his toys.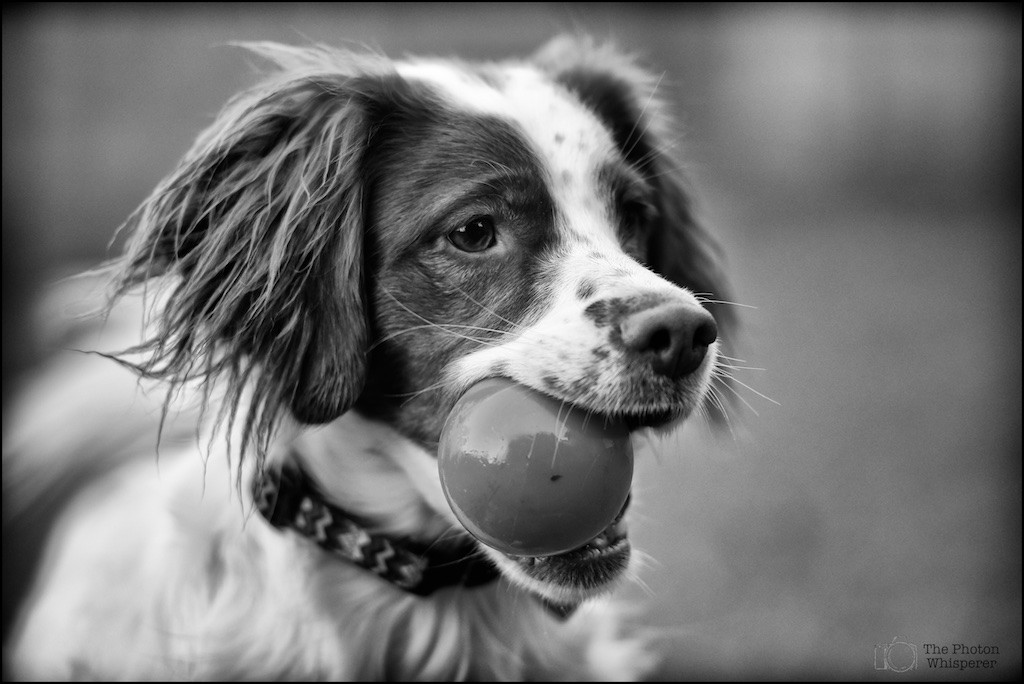 ———-
The first last photo of October "in all seriousness" was an attempted Halloween shot. Dramatic lighting and black backdrop, but she didn't want to hold the jackolantern prop, so I ended up with a very serious portrait.
Dave: Eva, we've got the lighting and background all set up. Time for a Halloween portrait.
Eva: Awesome! Love photo session time.
Dave: Good to hear. Your job is to sit here and hold a hockey ball that I drew on to make it look like a jack-o-lantern in your mouth.
Eva: Nope.
Dave: Seriously, nope?
Eva: Yes. It's not going to play out like that.
Dave: But it would look seriously cool.
Eva: Nope. Photo sessions are about me, and me getting a belly full of Shreddies.
Dave: Don't worry, I'll hook you up with Shreddies.
Eva: Nope. That's not going to work.
Dave: Can I ask why?
Eva: If you really need me to tell you, it is something like this – Having the ball in my mouth will block Shreddies from getting in my mouth. And that just ain't going to happen.
Dave: Seriously?
Eva: Yup, seriously. Now about those Shreddies …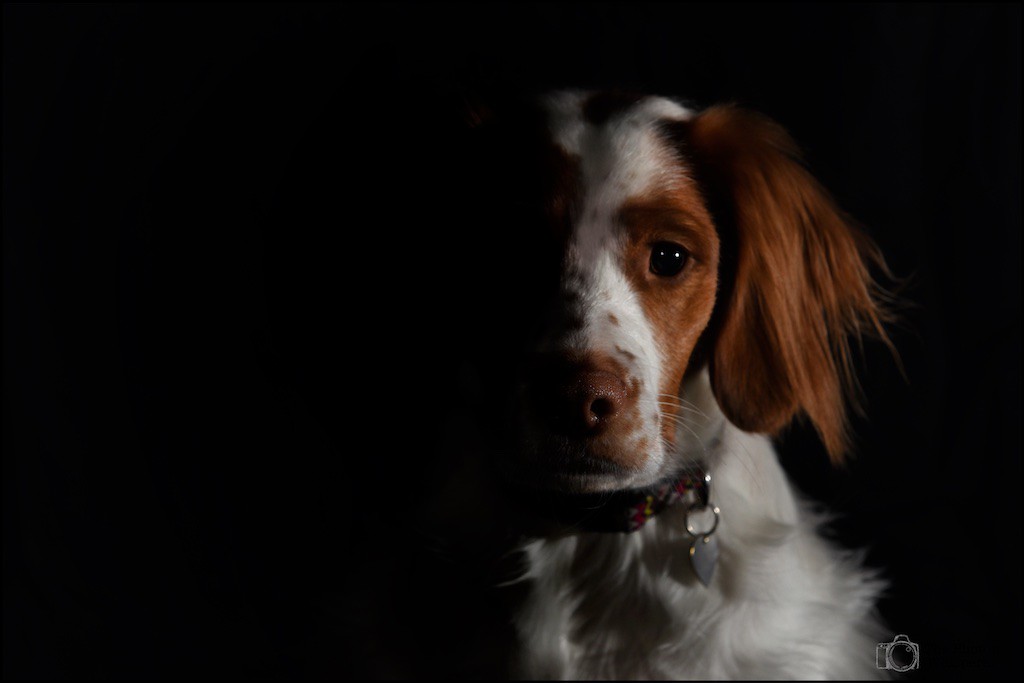 ———-
The first photo of November "grass eating grin" was a simple snap-shot in the back yard.Happy smile versus mid munching on the grass – you be the judge.  Not my best technical quality shot of Eva (nose instead of eye focus, busy background), but I couldn't resist her expression here.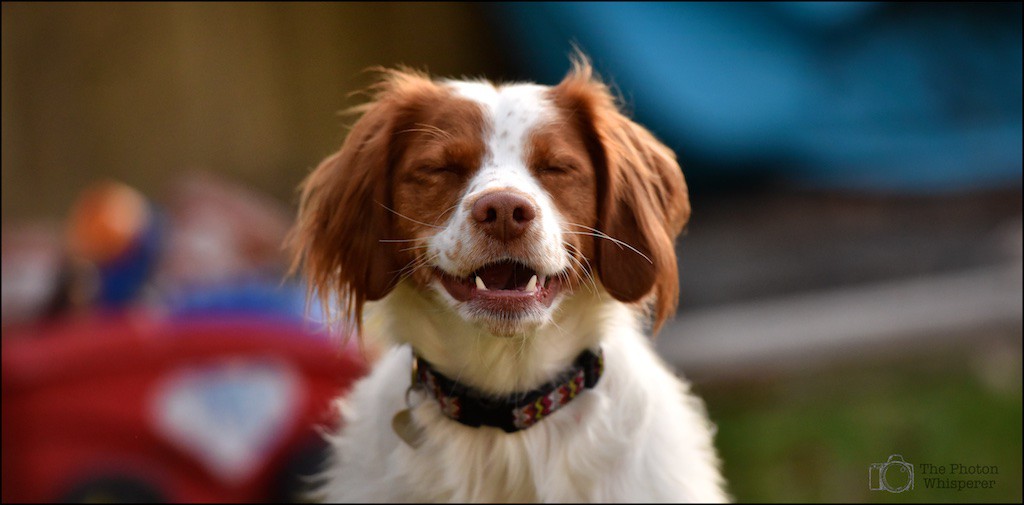 ———-
The second photo of November "someone to nap with" shows Eva and my son curled up for a nap. Eva was tired of watching us put up the Christmas tree, so she took a nap and Daniel decided to join her.  Although he is only pretending to sleep in the photo, it does make for a sweet moment.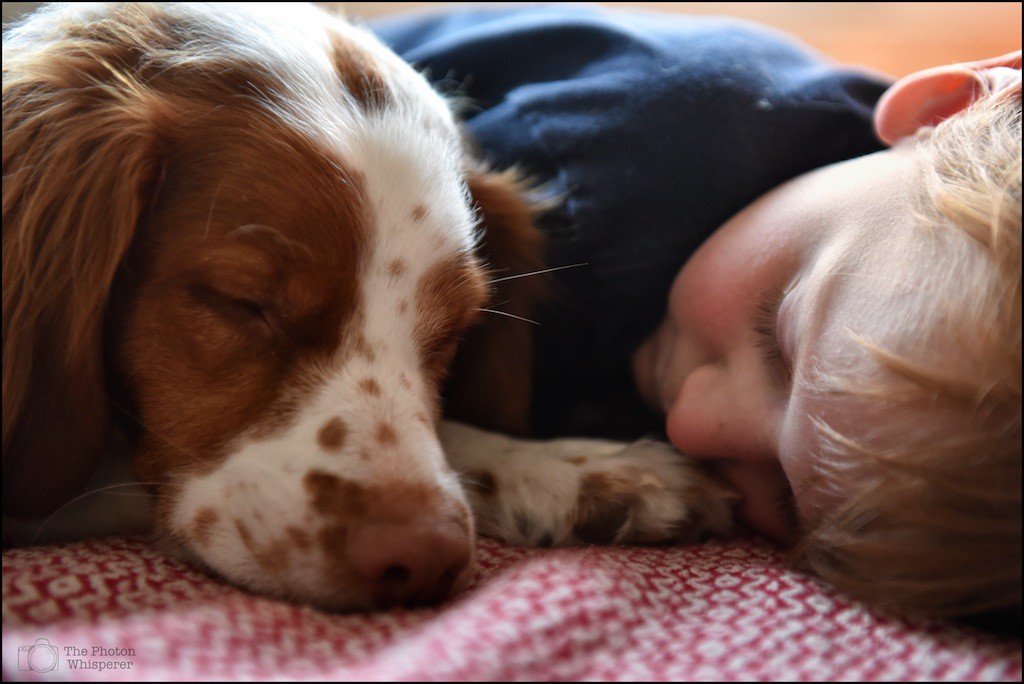 ———-
This photo "merry britmas" was actually taken on Christmas morning.  Apparently Christmas morning can be exhausting for dogs with all of the excitement in the house.  Good thing she can always make time for a good solid nap.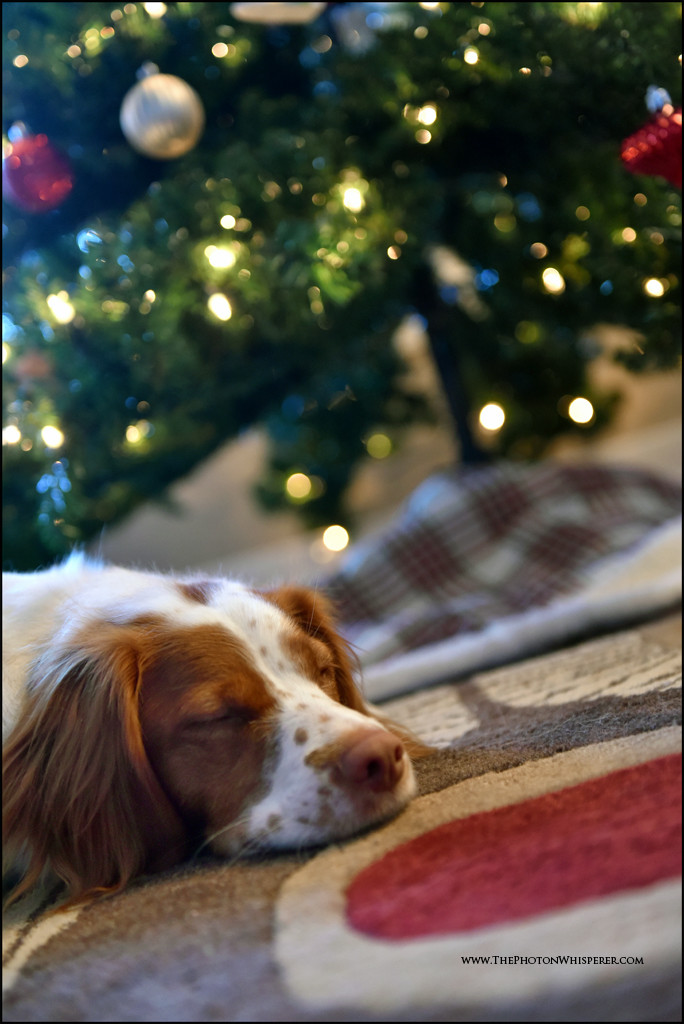 ———-
Her last photo of 2015 "a little winter adventure" was taken on the lake at the cabin during a little family snow shoeing.    I love going to the lake in the winter, and it always amazes me how different everything is when the lake is covered by ice.  The dogs are kept on lead here because there were snowmobiles around, and I don't trust the combination of snowmobiles and off-lead fast moving dogs.