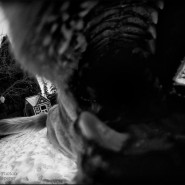 Bruno's project – February
February has come and gone.  It was a good month, with the humans in our family spending 2 weeks away in Maui.  Throughout the month Bruno's project continued, including some planned photos while we were away.
Week 5 was a challenge week in the 52 weeks group, with the theme of shooting blind/shooting from the hip.  The point of this is to take photos without using the viewfinder to try and get some more spontaneous shots, with a slightly different point of view.  The GoPro is a perfect little camera for this as it has no viewfinder, has a great focal range, and is so small it is completely unobtrusive.  I took it out into the yard with the pups to capture some of the fun of dog play with a close point f view.  Bruno took this a little further than expected as he tried to take the camera from my hand.  The camera survived intact, and this photo inspired the following imaginary conversation:
Dave: Bruno, what are you doing?
Bruno: Putting your camera in my mouth.
Dave: Really? Why are you putting my camera in your mouth?
Bruno: I'm a golden retriever.
Dave: Fair enough. But seriously, the GoPro camera?
Bruno: Yup. When I'm excited things just go in there. There's not much I can do about it.
Dave: I guess that explains my socks?
Bruno: Yup.
Dave: And the kid's pyjamas?
Bruno: Yup.
Dave: And everyone's shoes.
Bruno: Yup. Can't get enough of those.
Dave: And the bath mat and towels?
Bruno: Yup. I like to take those from the bathroom while I'm at it. Especially when someone's in the shower.
Dave: I've noticed. Is there anything else you want to mention.
Bruno: Your toothbrush.
Dave: Seriously, my toothbrush? You've put my toothbrush in your mouth?
Bruno: Nope. You guys are pretty good about keeping those things on a high shelf away from me.
Dave: The why do you want to mention it?
Bruno: I was going to ask if you could start leaving it on a lower shelf.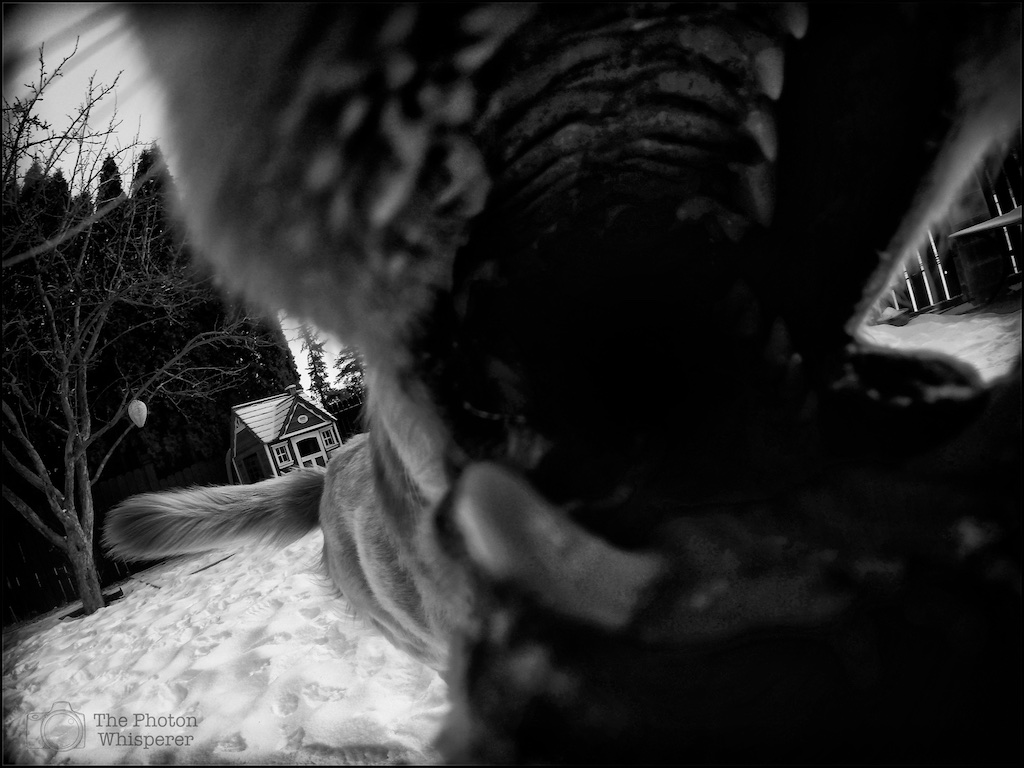 Week 6 was a set-up shot.  I wanted something different, so did a bit of a set-up shot to focus on a dog lick.  This involved a sheet of plexiglass (purchased for this shot and a few other that I happen to have in mind), and some cream cheese smeared on the glass.  Bruno loved this photo session.  Absolutely loved it.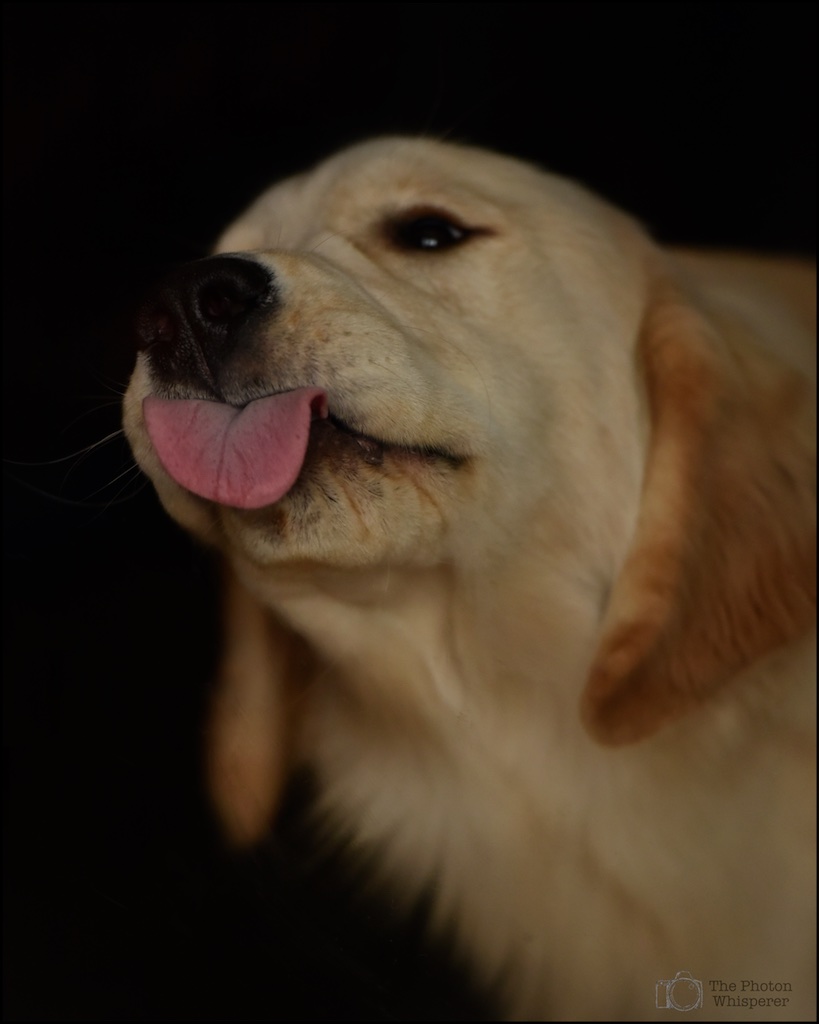 Week 7 is something that has become a bit of a tradition for me in the dog's 52 week projects.  We were fortunate enough to be heading to Hawaii for a little vacation this year, so Bruno put on the lei for a shot in the background, that I then put on the iPad and had my son hold for the photo  while in Hawaii.  Bruno is very adept at holding things in his mouth, so he got to hold a second lei in his mouth for the photo.  My son was sporting his new Hawaiian shirt to add a pop of colour into the photo.
For week 8 we were still in Hawaii.  I had previously taken a straight on portrait of Bruno that I wanted to use to pretend he was still with us on the trip.  I have been enamored with car widow shots where the true subject is in the rear view mirror.  Since Bruno is a bit of a nut-case in the car, I thought this may be my best chance to get a clean version of this type of shot with him.   My wife was a willing assistant holding the iPad in the rear view mirror while when I pulled the car over at a beach on the way to the airport.  Unfortunately, the reflections are a bit strong as I had envisioned this shot in the shade or under cloud cover, but I'll never complain about a sunny day in Hawaii.