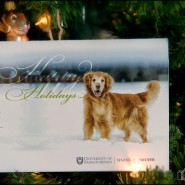 Merry Christmas from Oliver and the Western College Veterinary Medicine
Oliver was one of the best, and we lost him to cancer last year.  At some point in 2014 I'll do a post with his photos.
He received excellent cancer care at the University of Saskatchewan Western College of VeterinaryMedicine. During his treatments, my wife met up with one of the college's photographers Myrna Macdonald and shared my photos with her. Unfortunately Ollie died just before New Years 2012, but we've stayed in contact with Myrna and his vets. I was very excited when Myrna asked to use one of Ollie's pictures for the WCVM Christmas Card.
Merry Christmas from all of us, including Ollie!