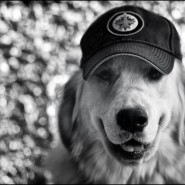 Bruno's project – March
March has sped past and we seem to have transitioned from winter to spring.  Bruno also continues to grow into the big lovable goof that he is.  Here are the selected photos from his 52 week project.  As always, links to the original posts in Flickr are in the week numbers.
Week 9 has a bit of a story to go with it.  The concept was working on a visual of 'big versus small', so I pulled out the Playmobil and put a Playmobil dog on his giant melon.  He did great for the photo, but after it was done had a spasm of insanity and tried to jump on the dining room table sending lego kits that my kids were playing with flying.  More details in the attached flickr link.
I also took the liberty of creating an imagined conversation to go with this photo – as follows here:
Dave: You're doing great, just keep holding still.
Bruno: Yup.
Dave: Keep steady, hold still.
Bruno: Yup.
Dave: Almost got it.
Bruno: I don't get it.
Dave: What do you mean? You hold still while I balance a Playmobil dog on your head and take a photo. We've been talking about this for days. And you're getting pretty good at holding still.
Bruno: I can do the holding still thing, for a while. But what's with the toy balancing on my head?
Dave: It's a for a photo to demonstrate the concept of Itten's contrasts. The whole studio 26 group is doing it and I thought I would combine it with your 52 weeks photo.
Bruno: First off, I don't trust any dude whose name rhymes with kitten. Second off, I still don't get it.
Dave: He described a bunch of contrasts to make for more effective photographs. Stuff like heavy vs light, line vs point, big vs small, rough vs smooth, sweet vs sour.
Bruno: Sweet vs shower! Seriously lets do that one. You can take pictures of me eating toast and jam in the shower!
Dave: I admire your enthusiasm, but we're actually doing big (you) versus small (the toy dog).
Bruno: It's a little above my head but I think I have it now.
Dave: Did you seriously just make up that pun?
Bruno: Yup, I'd love a bun. But, can you put some salami on it?
Dave: Oh man, so close to pulling off an clever pun.
Bruno: Can I ask you one more thing?
Dave: Sure thing.
Bruno: When are you going to take photos of me playing with that small dog named Bil?
Dave: Now you've lost me. What dog named Bill?
Bruno: I totally heard you say it. I could Play-More-Bill. I thought the "with" was implied.
Dave: Oh Bruno, I'm so sorry. What I said was Playmobil. It's the name of the company that made the toy dog. I hope you're not too disappointed.
Bruno: Oh. I guess that's ok. When do we get to do pictures in the shower with a kitten while I eat toast and jam?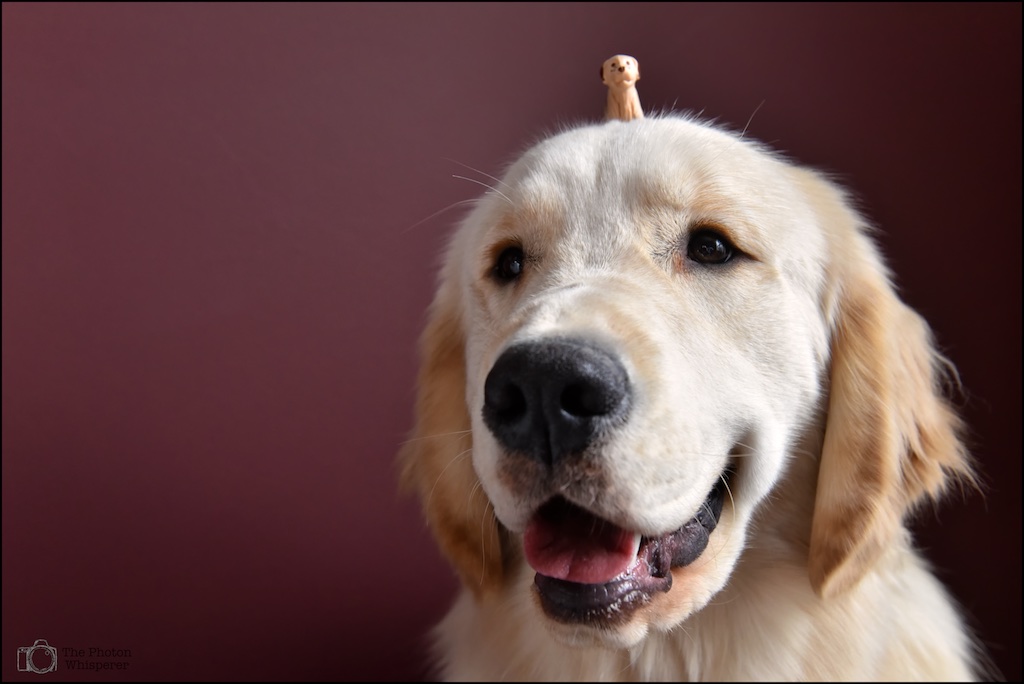 Week 10 was an  bit of a creative shot to highlight Bruno's personality.  He actually shares much of that personality with Sven from Disney's Frozen, and my daughter happens to have a toy camera that displays 'frozen' character photos on the back.  Shallow depth of field and a willing helper (my daughter) with a willing model (Bruno) make for this shot pretending that Bruno's aura is that of Sven.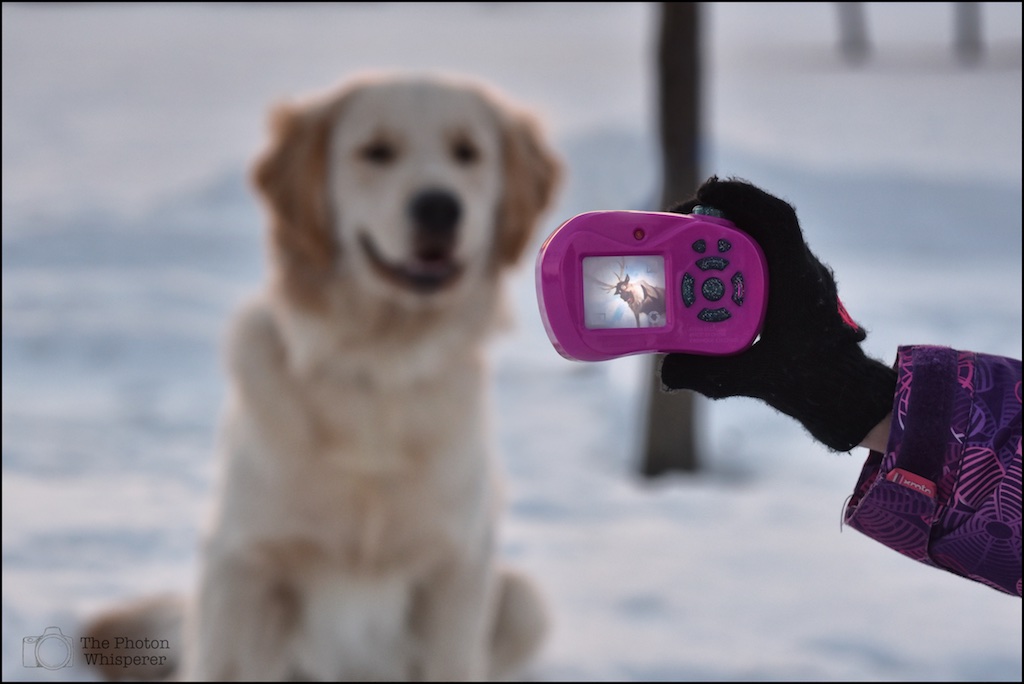 Week 11 was intended to be a shot of him relaxing in the papasan chair that he has taken over.  He loves the chair, and nearly completely fills it.  I wanted an unusual point of view so the chair came upstairs for a shot leaning over the stairs looking down to the chair against the hardwood below.  I did almost get what was in my mind, but then he jumped out of the chair sliding it into a wall.  On a redo my wife helped remind him to stay in the chair and avoid doing a dramatic exit.  I ended up liking this shot of him getting cuddled while looking up to me for more affection better than the shot I had planned to get, making it his his photo of the week.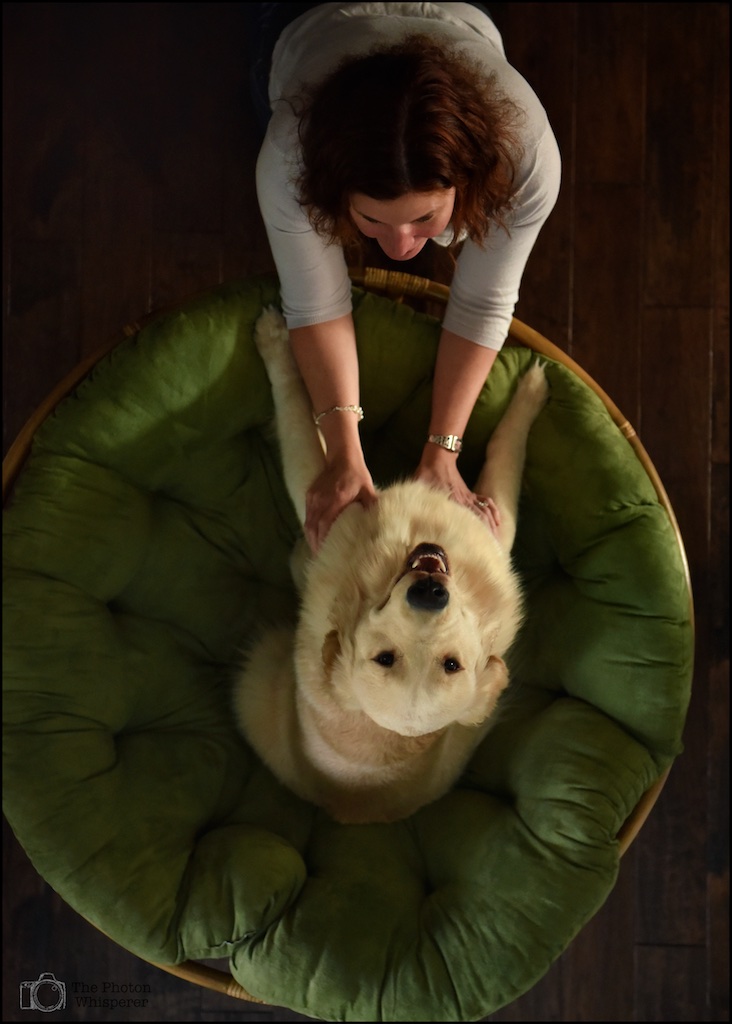 Week 12 was a quick photo.  Time was limited so I took Bruno out to the yard fro a solo photo shoot while his slightly nutty sister went slightly nuttier on the deck waiting for her turn to play in the snow (don't worry, she got to play too – after Bruno's picture was done).  I think this shot shows just how handsome he has become, and he's looking more adult than one would expect for his puppy personality.
Week 13 was a tribute to the Winnipeg Jets.  I do love the Jets, and they have been playing so well I figured it was time to post a tribute shot.  Apparently Bruno now has a massive cranium, as my adult sized hat balances on top of his golden melon.  The background – crumpled aluminum foil.  Go Jets Go!