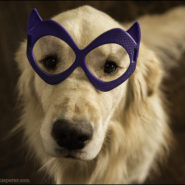 Bruno's Project – March
A little late on this post, but here is what happened in March.
Week 9 was a trip to the park for Julia and Bruno that ended in a drag through the snow.  Julia was more than happy to help me with my photo showing their contrasting footwear. And she did a great job walking him and posing with boots beside his paws on the fresh snow. Even after he took a break to literally drag her about 20 feet while she was still holding his lead so we wouldn't lose him. I guess that's what happens when a 75 pound dog really wants to go somewhere while a 60 pound girl is holding his lead. And that explains why her pants are covered with snow in the photo. No hard feelings between the two of them as she was laughing all the time. Those people who say that diamonds are a girl's best friend have never had a golden retriever in their life.
Julia: Hey Bru, thanks for coming for a walk with me.
Bruno: Always happy to walk. Unless it's too hot.
Julia: Well, we don't have to worry about the too hot today.
Bruno: Yup. Perfect day for a walk in fresh snow, smelling the winter air and saying hi to doggy friends.
Julia: But I'm not sure you even knew that last dog.
Bruno: Just because I don't know someone doesn't mean they aren't my friend. Everyone loves me, and I love everyone.
Julia: True. But next time you want to say hi to a friend, can you wait until I say we can go say hi?
Bruno: But that could waste valuable seconds of saying hi. And there's always a chance you would say no.
Julia: But, if you wait for me to say we can visit there's also a chance you won't drag me across the park on my stomach by the lead while you run over to say hi.
Bruno: Oh, but I thought you said you always wanted to go on a dog sled ride.
Julia: Yes. But dog sled rides involve a sled, not just being dragged through the snow!
Bruno: Suggestion noted. Next time we'll bring the toboggan.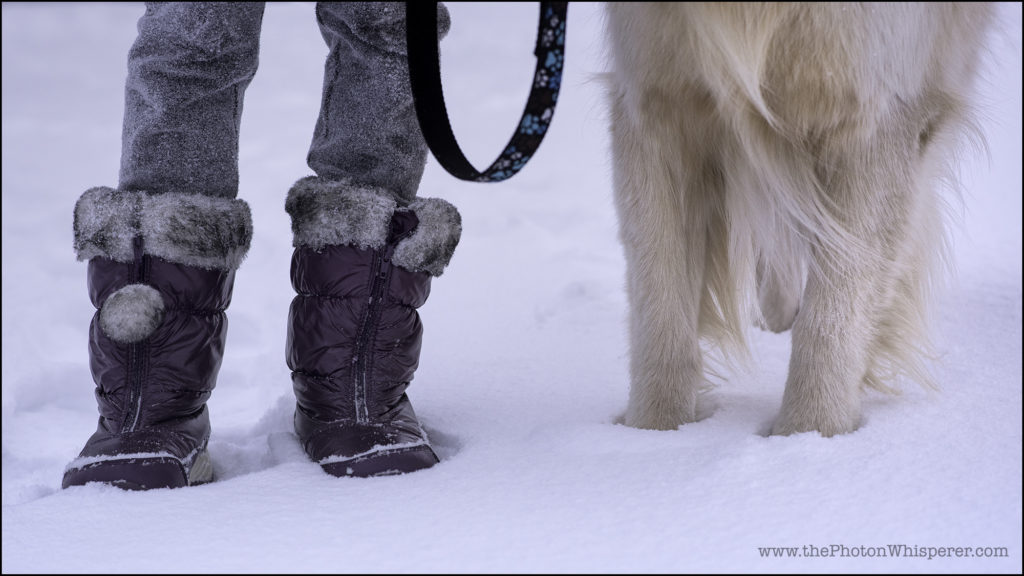 ———-
Week 10 "Bat-Bru" was the day we went to the Lego Batman movie and Julia had received this toy in a happy meal a couple of days ago.
Bruno: Hey Dave.
Dave: What's that Bruno?
Bruno: Not Bruno. I am Bat Bru!
Dave: Really? Never pegged you to be serious and brooding like the Dark Knight.
Bruno: You're right, I'm more golden and fluffy.
Dave: And what makes you think you'd be a good super hero?
Bruno: The costume. I'm really rocking these mask glasses.
Dave: I think those are more cat woman glasses.
Bruno: Nope. I don't do cats, they freak me out a bit. And I'm sure they're Bat Man. Otherwise why would they have a Bat Man logo on the side?
Dave: Fair enough. But what about the cape?
Bruno: I'd love a crepe! This Super hero thing just got even better!
Dave: Not a crepe. A cape for you to wear. Makes you more intimidating and super-heroish.
Bruno: Like a towel? I love holding those in my mouth. Masks, crepes and towels. This Bat Bru thing is the best idea I've ever had!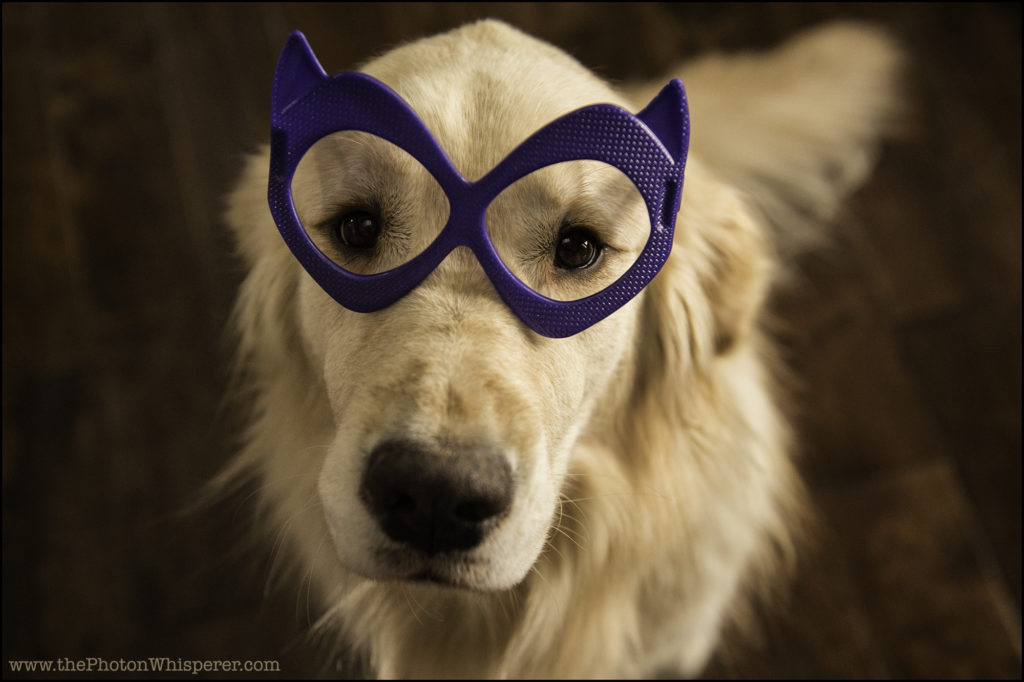 ———-
For week 11 some new props came into the house.   A couple of weeks ago I had seen these mugs at a Chapters Indigo bookstore and thought they were great, both for the humans and as a prop for a dog photo. But, I restrained and didn't buy them. When I told my wife about the mugs she went back that afternoon to pick them up. They are now our breakfast mugs, but today they were filled with breakfast kibble for Bruno's photo project. I never knew his snout was so flexible to produce that many wrinkles.
Eva: Bru, what do you think of these new mugs?
Bruno: I thought they were for the humans.
Eva: I'm not so sure about that. The text seems to fit us both perfectly.
Bruno: Nothing is fitting about mine.
Eva: Seriously? Do you even know what namaste means?
Bruno: Of course I do. Do you think that I'm a troglodyte?
Eva: Honestly… yes, I kind of do. But how can that mug not fit you? You love to sleep in and chill?
Bruno: Well, that's not the true meaning of namaste. But even allowing for that, the cultural misappropriation of the term and the fake contraction, it still doesn't fit. That's why I assumed it was for the humans.
Eva: Well, I never took you for that much of a scholar of languages. I guess I underestimated you.
Brunuo: I accept your apology.
Eva: Oh, I never apologized. I make that a principle of mine to never admit wrongdoing. But, I would appreciate it if you could enlighten as to why the text doesn't fit.
Bruno: It truly has nothing to do with the text. I can't even read. I simply meant that it doesn't fit because I can't get my snout all of the way in to eat the food in the bottom two thirds of the mug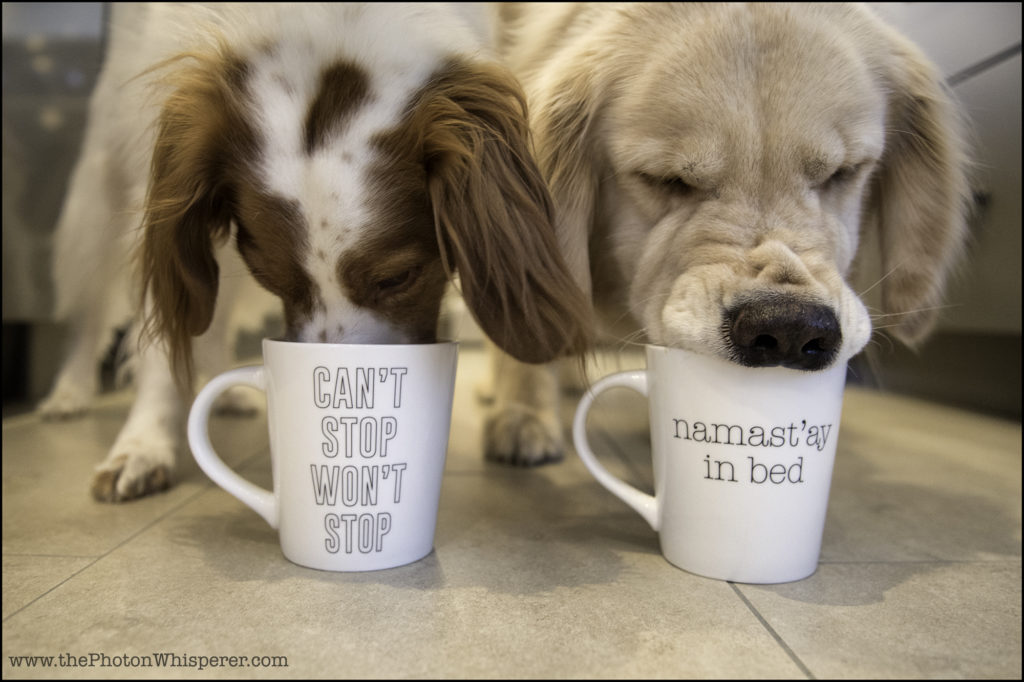 ———-
Week 12 was a close up of his warm paws on the frosty deck.  I was going to do some action shots in the yard, but when I saw how the frost on the deck was melting under his paws I knew I had my shot.
Dave: Hey Bru, looks a little frosty out there.
Bruno: Just a little. And just how I like it. I tend to run a little warm.
Dave: Like the expression "cold nose, warm heart"?
Bruno: I don't get that one.
Dave: It means that even though a dog's nose is cold, they have a warm heart meaning they are kind and gentle.
Bruno: Oh, well that's stupid.
Dave: Really?
Bruno: Yup. Why stop with just the heart being warm? I believe in being warm all over. It makes me so much better to cuddle.