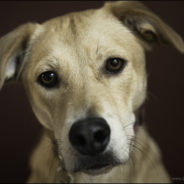 The start of a new year usually is accompanied by new beginnings, and for Agnes this means stepping up her modelling skills and moving into being a weekly model for a 52 week photo project.  For those who do not know her yet she is a mixed breed of wide genetic diversity that joined our family last April.  She starts the year at just under a year of age and is skittish of being without the other dogs and a bit hesitant about the camera.
This project will be an interesting challenge for both of us.
Quizzical
quiz·zi·cal: ˈkwizək(ə)l. – adjective (of a person's expression or behavior) indicating mild or amused puzzlement.  More rare: causing mild amusement because of its oddness or strangeness.
I think both the typical and rare dictionary definitions of quizzical above work for Agnes, both in this photo and in her general life.
This photo was the first time I've done solo portraits with her as most of her other photos have been opportunistic ones while she played with or lounged near the other dogs. Eva and Bruno were watching this session from 5 feet away in another room which Agnes felt was too far so she left a couple of times and found them. This portrait was eventually aided by my wife, dog treats, and sitting between her puppy friends. Note a bit of stray Bruno fur on the left side of the frame that I considered cloning out but left in because it's part of her story. No dogversation as she wasn't in a talkative mood.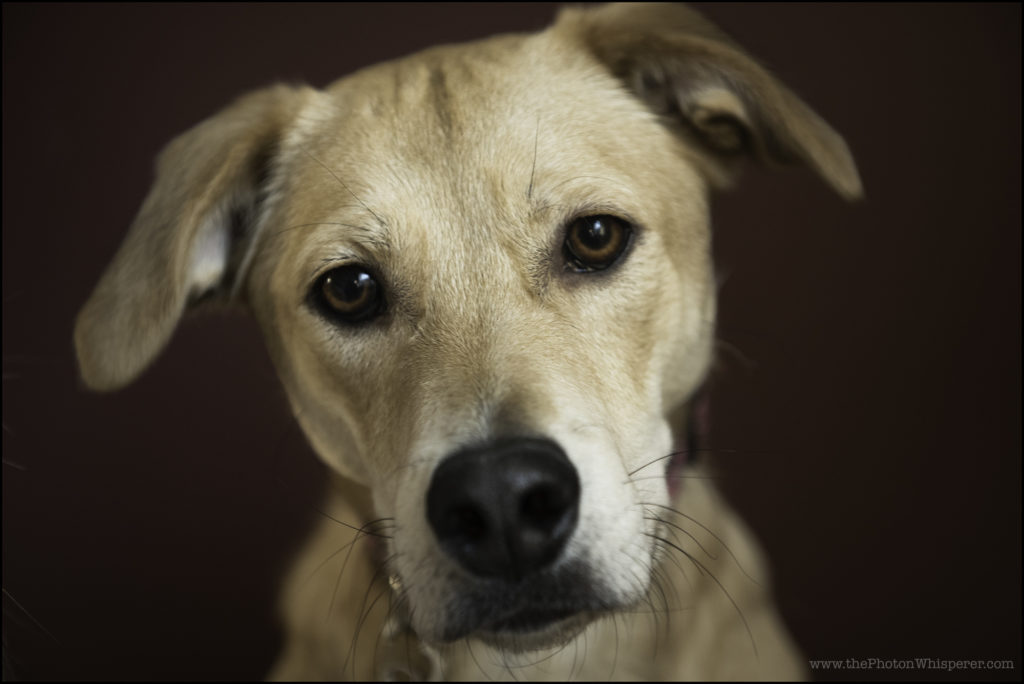 Little Miss Soulful
Here is Agnes in a bit of a lounge on the living room floor. Much patience, a reward ball, two different lenses, two canine companions, two human assistants, and 179 frames later for this portrait. A very different experience photographing her versus my other two social butterflies. But those soulful eyes make up for it in the end.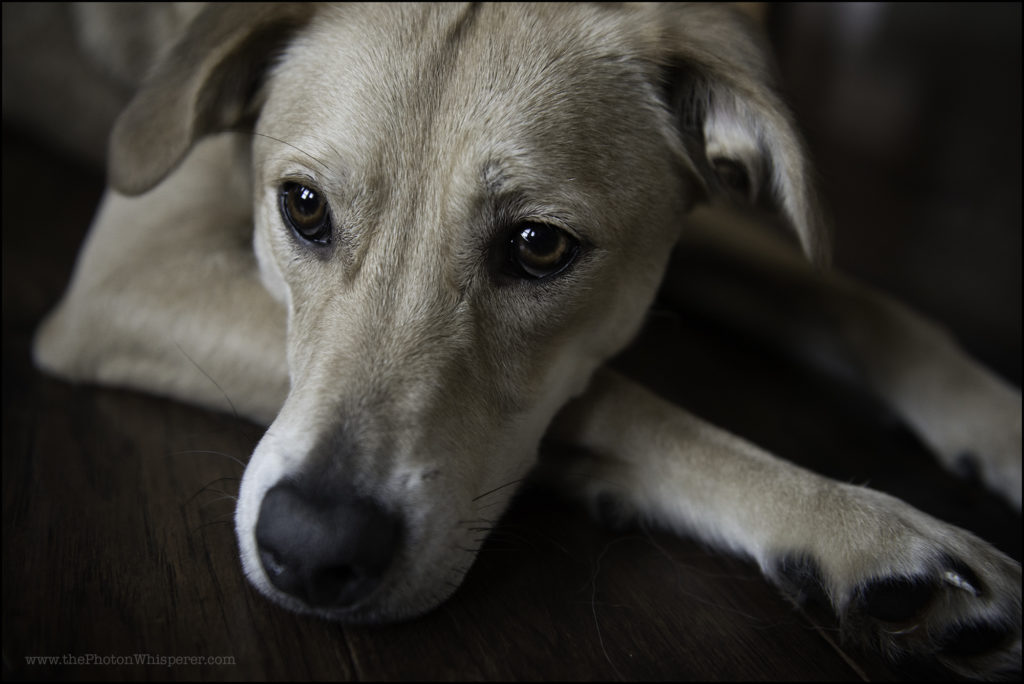 The Lost Ball
Aggie does love these chuck-it glow in the dark balls. And this is indeed a common scene in our house with her needing help when it seems to roll under the couch on a regular frequency. I have thought about putting pool noodles under the couch to block the ball from rolling there, but then I think that she seems to enjoy the retrievals almost as much as having the ball in the first place.
Agnes: Pssst Dave, can you help me out here?
Dave: Sure thing. What's up?
Agnes: Well, my ball seems to have become inexplicably lodged under this couch.
Dave: I believe that I just got that ball back for you less than two minutes ago.
Agnes: Yup, that's the ball. I do appreciate that you got it back for me.
Dave: If you appreciate me getting the ball back for you, then why is it under the couch again?
Agnes: Well you see, I was playing with it when I knocked it under there again. Possibly on purpose.
Dave: And you expect me to just get it for you.
Agnes: Well, it is one of the services that you seem to offer. It's kind, helpful, and a good bonding experience for us.
Dave: I don't get the bonding thing but you do seem to really want that ball so I'll help you out. But this time, can you avoid trying to keep your head under my head while I reach around under the couch for your ball?
Agnes: Are you kidding me? If my head isn't there how will I know that you're doing it right? And how will we ever bond if our heads aren't squished together? Sometimes I think you humans just don't understand good supervision and logic.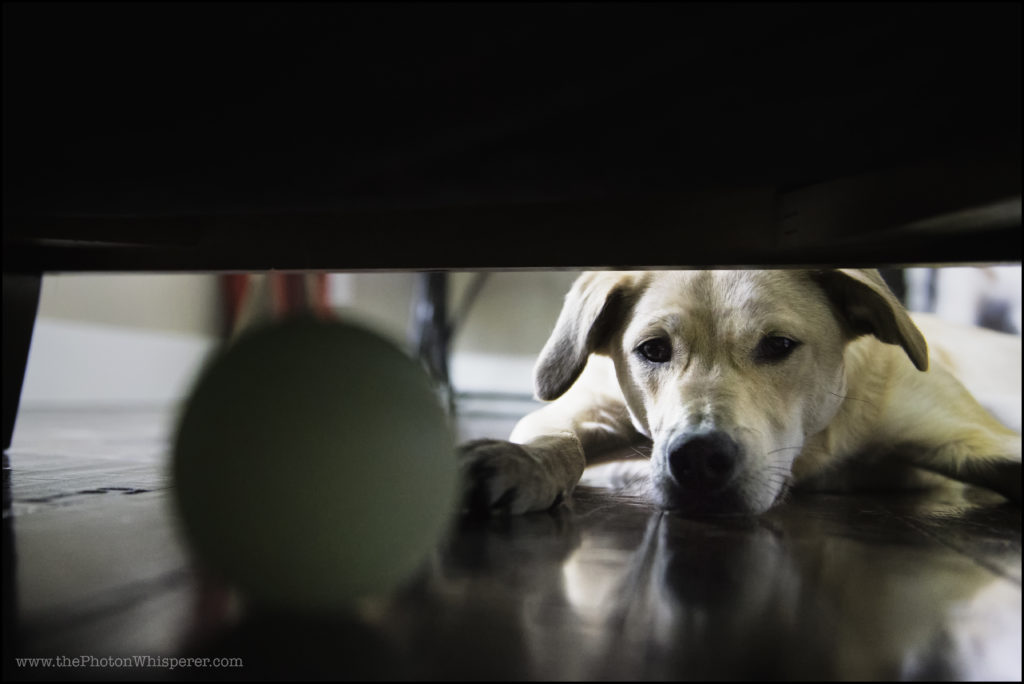 Agnes in Profile
Agnes in serious profile in the park.
I photographed this as a revisit/tribute to project photos from Eva's in 2014 and Bruno in 2015. We had a big snowfall so the nicely snow covered toboggan hill again made the clean white background for the photo.  I do like the patterns that her neck fur makes under those half-up ears.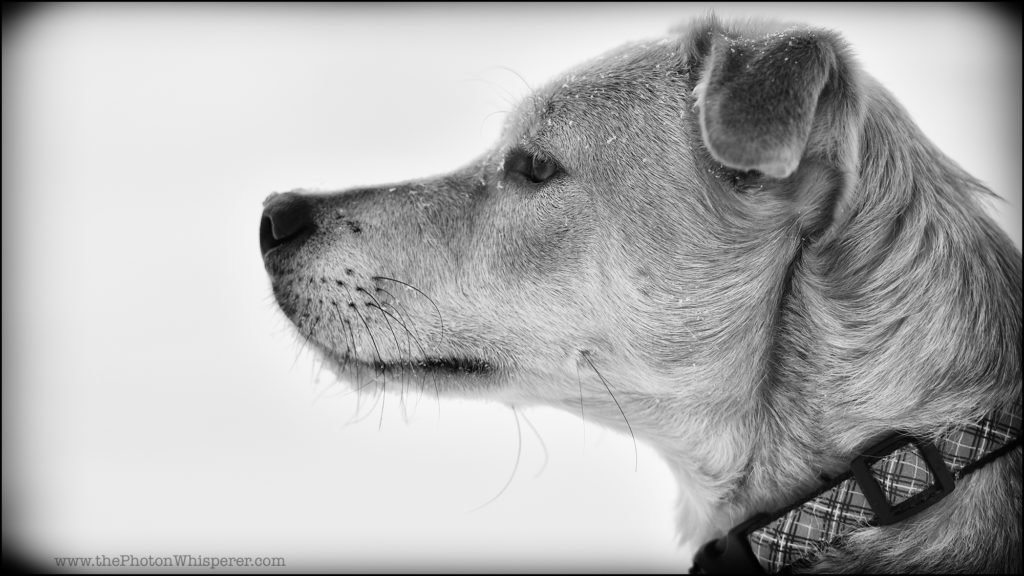 To complete the set, here are the portraits of Eva and Bruno.  Although I do like them all, it's hard to beat Eva's ear hair.