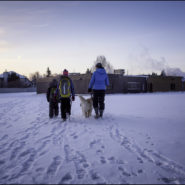 Bruno's project – February 2017
Bruno's project in February saw  winter weather, school drop off, a valentine's photo and an in absentia vacation photo.
A Little Closer
For Week 5 "a little closer" I took him to the frozen pond and this is what he came up with.  Worked out so much better than what I was trying to frame up.  He is such a gentle giant, and I think that shows in his eyes here.
Dave: Hey Bru, how is staying over there for the photo going?
Bruno: It was pretty good.
Dave: Then what happened?
Bruno: I missed you. So I came over here.
Dave: But, I was only seven or ten feet away.
Bruno: And now you're less than two feet away. Much better.
Dave: Fair enough.
Bruno: Yup. And know what else?
Dave: What?
Bruno: Those cookies you brought smell so much better from over here. I thought coming over here would make it easier for you to put another one in my mouth.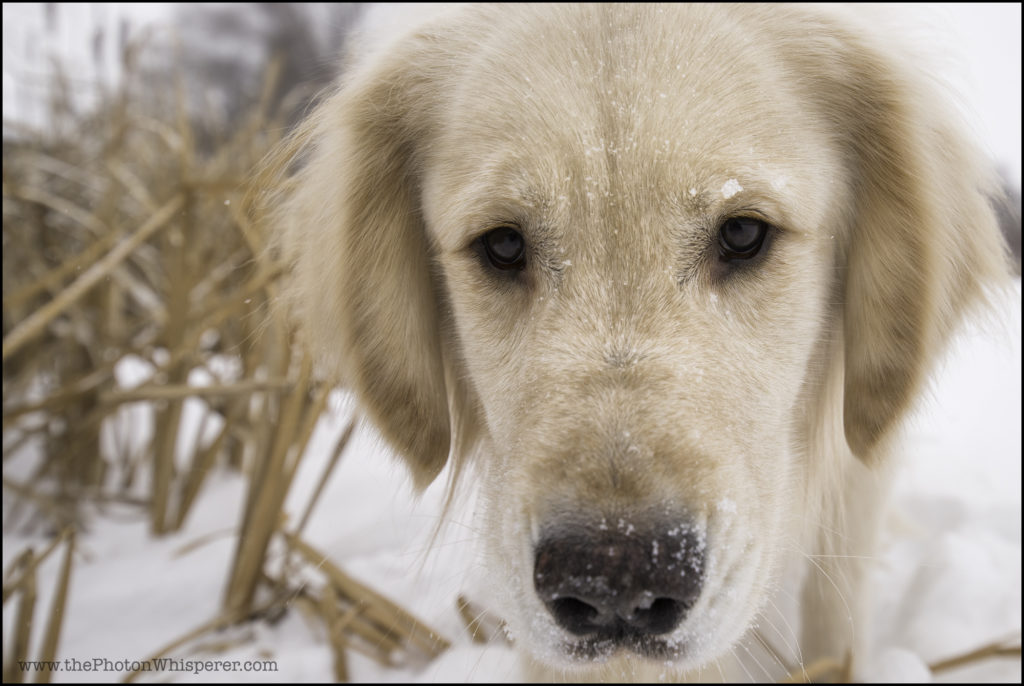 School Drop Off
Week 6 "school drop off" was a photo of daily life.  We walk the kids to school every day, and the dogs love to come along for the walk.  Here everyone can be seen approaching the school, and if you look close you can just see a bit of Eva as she is always the one in the lead.
Bruno: Karen, why do we have to drop the kids off for school?
Karen: That surprises me. I thought you liked the morning walks for drop off and afternoon walks for pick up.
Bruno: Oh, but I do like those walks. The fresh air, the family time, and all of the bonuses.
Karen: Bonuses?
Bruno: Yup. Lots of bonuses during school walks. Kids coming over to pet me. Adults coming over to pet me. Getting to poke my head in the school and have teachers pet me. And then there's the occasional food litter. Apple cores, muffin wrappers, and last week I even found a piece of granola bar.
Karen: Then if you like all of those things why don't you want to do school drop off.
Bruno: Oh, we can still do the walks. I just don't get why we have to leave them in that building.
Karen: You know, so they can learn things like how to read and write. And then they can get good jobs so they can afford a nice place to live, eat well and all of those other important things.
Bruno: Seems like overkill to me. I barely even went to school and I live a life of luxury.
Karen: You're a bit of a special case. It doesn't usually work that way for humans.
Bruno: Oh. But I still think it's a bad idea to leave them there.
Karen: Why?
Bruno: Because I miss them during the day.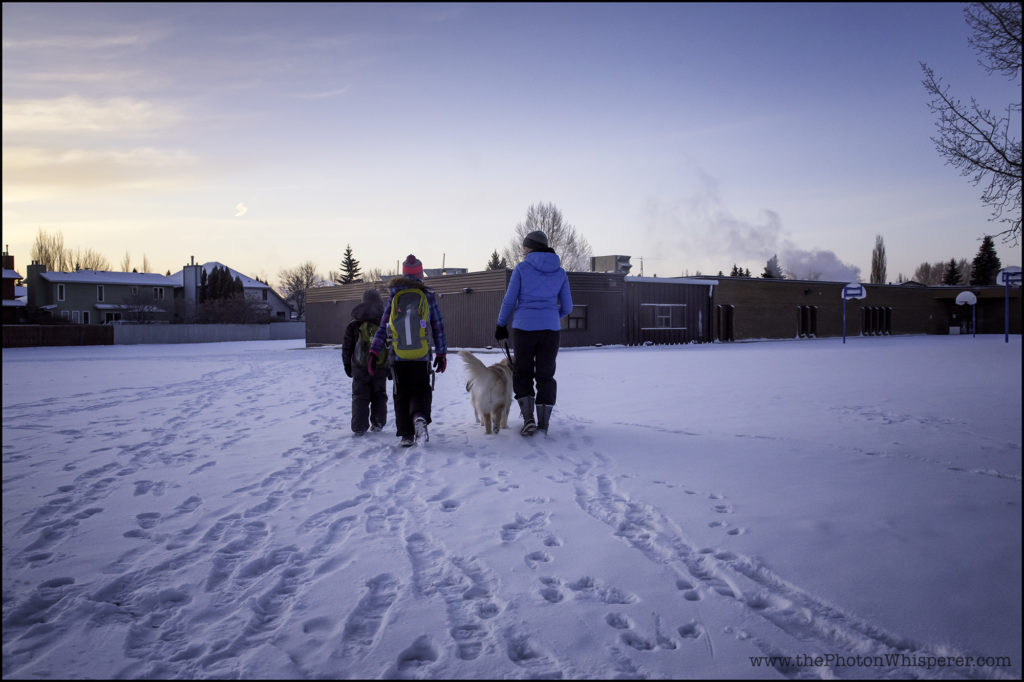 Big Love
Week 7 "big love" was his valentine's day photo.  We are not ones to make a big deal over valentine's day in our house, but when I saw the big love sticker in a sticker pad of my daughter's, I knew it had to be part of his photo for the week.
Dave: Hey Bru, what's with the "big love" sticker?
Bruno: I's my motto. I'm big, and love is the most important thing to me. Except maybe food – but I do really really love food, so love wins again.
Dave: I get that. But, why the sticker?
Bruno: I thought it would remind people how important love is. And to cuddle me.
Dave: Okay. So it has noting to do with Valentine's day?
Bruno: What's that?
Dave: A day set aside to tell people how much you love them, and spend time with them. Big day in North America.
Bruno: Well, that's just stupid.
Dave: Really? You don't agree with the concept?
Bruno: No, the concept is good. The stupid part is why people would only do that one day of the year. Every day is like that for me.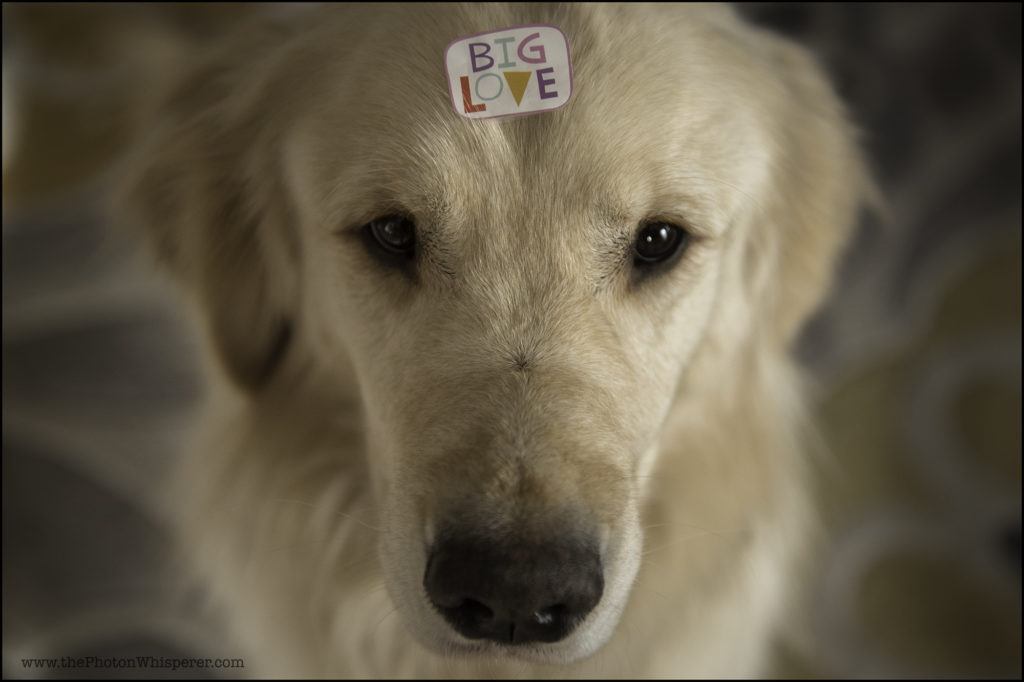 Separate Vacations
For week 8 we had "separate vacations".  Bruno and Eva stayed at home with a friend of ours while us humans went to Phoenix.
I had taken a photo of Bruno with a toy snake to use on the iphone while away, but unfortunately I accidentally deleted the file.  Fortunately our friend Stacey did not think I was crazy asking her to text me a photo of the big guy.
It turns out that he spent much of the week wrestling with a tiny pug who was also crashing at her place for spring break.  Bruno was tired when we picked him up.